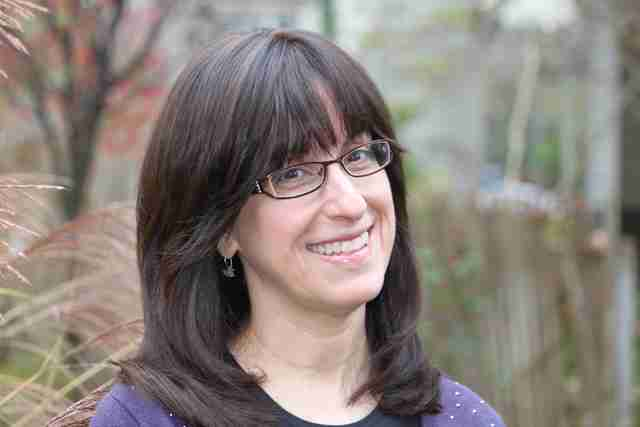 I first found out about Andria Rosenbaum and her work from seeing her posts on Verla Kay's Blue Board (now the SCBWI Blue Board). That's a great place to meet all types of picture book writers. I am so grateful to Andria for taking time to answer some questions. She'll have two new picture books on the market next year and her future is quite bright. Andria put a lot of effort into these answers so read the Andria Rosenbaum interview and say hello or leave a comment or a question for her when you finish.
Now…. onto the interview with Andria Rosenbaum.

Thank you so much Andi for taking time to answer some questions about writing for children. I'm so happy to have your insights and I know your words have the ability to inspire others to pursue the art of picture book writing, poetry and creating short stories. I want to start off this interview about your first memories of books. Does that go back to your father reading to you and your siblings before bed? Can you share any of the favorite bedtime reads
as a child?

My dad read us everything from poetry to Tarzan of the Apes. I don't remember him reading many children's books. What mattered to me most was the music of the words. Listening taught me to travel in my imagination. I guess that led me to making up my own roads with my own stories.
My favorite book as a child was Walter Farley's Little Black, A Pony. (I still own a copy.) I also loved anything by Dr. Seuss for his rhythm, inventive illustrations and word play.
How important is it for parents to read to their children and does it matter what format and what subject is read?
I think it's crucial for parents to read to their children. Not just to develop a love for reading. But it's such a pure bonding experience. When I think of my childhood my favorite memories are lying on the floor next to my brothers and sister hanging on my father's voice as he read. He could have been an actor. He brought every word he read to life. I read to my children. Now I love reading to my grandchildren too.


Who would you credit as being the inspiration that led you to choose writing for children as a career?
Again, it goes back to my parents. My mother read a lot. But, I wasn't a strong reader as a child. I learned to read by sight [Dick and Jane] not phonics. I could read and memorize, but I rarely comprehended what I read. It wasn't until I taught myself to read out loud that reading clicked for me.
I have been writing stories and poems since I learned how to write. I couldn't spell. My grammar was far from perfect. But my parents and teachers were always very supportive of my writing. I didn't choose writing. Writing chose me.


Before you began your journey to publication, did you take any writing courses? If so, what were they? If not, would you
recommend beginning writers to enroll in such courses today?
My writing journey began a long, long time ago. I received my first rejection when I was 11. I've had hundreds since then. I'm lucky I don't take no for an answer, or I would have quit before I ever had a chance to be published.
The most important writing course you can take is free. Go to the library and read. EVERYTHING. But I have taken writing courses and each has helped me, bit by bit. The best course I ever took was a Highlights Foundation poetry workshop with Rebecca Kai Dotlich. She is a wonderful teacher and a lovely, kind soul too. Highlights Workshops and the environment they exist in are exceptional. It truly feels like you're on a magical writing island when you're at "The Barn".


And also on the idea of writing education, what are some great books on writing you think are must reads for beginning writers?
Some of my favorite books on writing are:
ON WRITING

–by Stephen King
POEM-MAKING:

— Myra Cohn Livingston
BIRD BY BIRD

— Anne Lamont
PASS THE POETRY, PLEASE

–Lee Bennett Hopkins


As with all writers, I'm sure you've had your fair share of rejections, especially when you started out. Can you remember your feelings when you received your first rejections?
I'm sure my reaction to my first rejection was –I QUIT. That probably lasted a whole day. I can not—not write. It makes me very irritable and unhappy. That doesn't mean I haven't given up many times. I have. But in the end the only choice I have is to write. So I do.


How long after receiving your first rejection did you receive your first acceptance and what was it?
My first acceptances were for adult poetry, probably when I was in college. Those early acceptances were few and far between. I didn't have any children's poetry published until after I had my four children. Like I said, my road to publication –especially for books has been long and all uphill. I'm more of a turtle than a hare.


You have a new book titled Meg Goldberg on Parade due out in 2015 from Kar-Ben Publishing. You previously had A Grandma/Grandpa Like Yours published by Kar-Ben in 2006. Can you comment on the process of working with Kar-Ben and especially on their focus for Jewish themed books?
I'm thrilled that Kar-Ben is set to publish MEG GOLDBERG ON PARADE in 2015. Within the story, written in rhyme, a shy girl attends the Celebrate Israel Parade as a spectator, but ends up imagining herself into the action. It takes place in New York City on Fifth Avenue and was a blast to write.


For your first Kar-Ben book, did you have the services of an agent?
I didn't have an agent for either of my Kar-Ben books, but as a member of the Author's Guild I sought their guidance. As an orthodox Jew, I'm comfortable writing books with Jewish themes. But it's important to me that my books appeal to all children, regardless of their religion, or beliefs.


You are represented by Natalie M. Lakosil of the Bradford Agency. How long has Natalie been your agent and how long did your search for an agent take?
In October 2013, I received an email from an editor inquiring about a book I'd submitted through the Slush the previous January. She wanted to know if it was still available. I screamed, hugged my dog, cried, called my mom and read the email a few hundred times. This little picture book called TRAINS DON'T SLEEP meant a great deal to me. I wrote it for my first grandchild, my grandson who was obsessed with trains by the time he was two. He talked to them. They were his constant companions. He even slept with one curled in his tiny fist. When I'd read the manuscript at Highlights everyone said it publishable. But this editor's interest was the validation I'd worked long and hard for.
I decided I wanted to get an agent this time around.
I did some research, made a list and queried my top three agents. ( I had other manuscripts to show them too.) In the end, Natalie and I just clicked. Since no offer had actually been made we decided to sub. more widely. Within days, there was an auction. I never dreamed that was possible.


How can people contact you via social media? And is social media something you use to help promote your books? If so, how helpful do you find Twitter, Facebook. Pinterest, etc?
You can find me on Twitter at @Andriawrose or on my website: andriawarmflashrosenbaum.com.
I don't know how helpful these tools are in promoting books. At this point, I use them to connect with other writers and eavesdrop on the industry. I plan on using them more as my books are published.


I always ask writers about a few of their favorite things so here goes…. (elaborate as little or as much as you'd like)
Coffee or tea?
I love coffee! I start thinking about my morning coffee the night before. I like herbal tea too –after I've already had my daily coffee allowance.
Ice cream or cake?
Chocolate cake, please. I try to watch what I eat due to BIC (butt-in-chair). I wouldn't want mine to turn into BIG BIC . Though, that might be an awesome name if I become a rapper .
Streams, oceans, lakes, or ponds?
Oceans, oceans, oceans.
Martin Waddell or Margaret Wise Brown?
Margaret Wise Brown. I'm a Bank Street College graduate and a MWB devotee. It pains me that she passed away so young. That said, I adore Waddell's THE BIG, BIG SEA.
Steven Kellogg or Jan Brett?
Jan Brett. I love the intricate details in her work.
Cats or dogs?
Dogs f-o-r-e-v-e-r and ever. They only speak love. You just have to listen.
What is your favorite pizzeria?
I love Poppy's Pizza in Teaneck, NJ. Yummy AND Kosher.
Finally, why do you love writing for children?
Writing for children keeps me in touch with the magic, wonder and hope that fuels humanity. Within, we are all children.
Comments
comments