Check out Brandon's book Barefoot Church
– A MUST READ!!!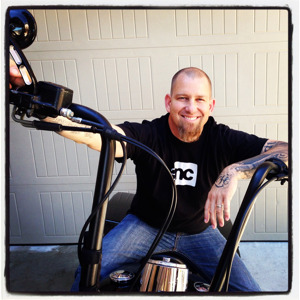 My interview with Brandon is a bit dated, but filled with great info.
Brandon is the Lead Pastor of Austin New Church, a missional church focused on serving the under-resourced in Austin Texas. He is Co-Founder of Restore Austin which serves as a conduit for volunteerism in Austin by connecting the church with Austin based non-profits that serve our city and world. Brandon is also the Director of Development for "Missio Local", overseeing the local expression of Missio's effort to serve the missional movement. And he currently serves as the Missional Director for the newly formed River Conference of the FMC.
Brandon is married to author and conference speaker Jen Hatmaker
, and is dad to three of the coolest kids in the world: Gavin (11), Sydney Beth (9), and Caleb (7). Adding to the family, Jen and Brandon are on the adventure of their life as they are in the middle of the long process of adopting siblings from Ethiopia.
Brandon, I follow you on Twitter and just happened to log on to see this tweet from you, "Going social media silent for a month…. starts in 18 minutes. See you in June tweet nation." My question is "WHY?"
My wife and I are taking part in a personal "social experiment" for 7 months where we are prayerfully asking God to show us (1) areas of extreme excess in our lives (2) issues of materialism/idols and (3) things that are bigger distractions than we know.
It's a fast of sorts… but certainly not a traditional fast… and we're trying not to be too legalistic about it (keeping the heart of the fast instead of the letter of the). So we've chosen 7 topics in our life and are focusing on each of them once a month for 7 months. For example, the first month we chose seven foods and ate only those (eggs, chicken, spinach, bread, sweet potatoes, avocado, apples … no dressing/condiments/etc… just salt and pepper). For a month and drank only water (no coffee). The next month we gave away 7 things a day for 30 days.
This month is a media… so we're taking a break from seven things: TV, facebook, twitter, radio in the car, online and video gaming, computer after 5pm, and iphone apps. Future topics are spending money in only 7 places, 7 new habits for green-living, and 7 "sacred pauses" where we take 7 moments a day to stop, breathe deep, pray for specific things, and hold to the sabbath. My wife is writing a book on the journey. There's been much (especially the unexpected) we have learned so far.
What about your 2000+ followers? How will they know what you're thinking, what theological thoughts are very important at any given moment and what is happening with Austin New Church?
Funny. I expect they will survive. They can always keep posted at www.ancblog.com or www.austinnewchurch.com. They'll be kept current… and while I'm limiting my blogging (www.faithparley.wordpress.com)… I'm not intentionally breaking from that area of media.
How often do you fast from Twitter and is it only Twitter, Facebook, and other forms of social media? Or do you fast from blogging, creating website content and email too?
This is actually my first social media fast. I don't miss it yet. however, I did have a question for the twitter-verse that I wanted some feedback on for a sermon I was preparing earlier today… instead I had to just depend on books, online commentary, and studies already posted. What's next? Carrier pigeons?
As in Biblical fasts, will you now spend more time in prayer?
Certainly. And with my family. And in God's Word. I wonder if I'll become a better Pastor?
How would you recommend someone begin a social media fast? For someone who has never done so, it could be very difficult.
Drop the iPhone application first. That's a good way to wean off facebook or twitter. If it's literally not right in front of you… unless you're in front of your computer… you'll be less curious what's going on with your social media friends. Out of site, out of mind. Maybe dump the iphone all together and activate a regular old-school cell phone for a month. While that advice comes with the assumption you have an iphone, same goes for any web capable phone, blackberry, or media shortcut. Come to think about it… maybe I should do that. To Be Continued….
In today's world, and maybe especially in Austin, Christians are deemed to be the weird ones compared to being the called out ones. Do you think your social media fast enforces that stereotype or says something altogether different to the unchurched?
Honestly I don't think it enforces any stereotype other than that we're human beings living in 2010. I think Christians and non-Christians alike understand that they have some serious media and sensory overload. Also, I don't think we actually ever called it a fast (intentionally so)… more of a break… or just going silent. Most who have heard about it have not only encouraged us, but expressed a desire to join us.
I'm thrilled with your approach to church, the Christian life, church planting and everything else you are doing in Austin. Can you describe how your approach differs from how Christianity and the church has been perceived for the past thirty years?
Recent studies show that 35-40% of people in America say they "might" visit a church if a good friend invited them. That percentage includes those who currently attend as well and is a rapidly shrinking demographic. This leaves 60-65% (and growing) of America saying they'd never come no matter what. Meanwhile, the vast majority (some say 85-95%) of our current churches are postured to reach those who would already come. It's a "come to us" strategy more than a "go to them" strategy, which works for some and doesn't for others.
We kinda feel like missionaries to our city. What I mean by that is that we have made a commitment at ANC to try and posture our church to appeal to those who say they might not ever come. To change their minds/misconceptions about church. What that will take is to change their perception of the church. It starts with us as individual Christians. Since many have the impression that a church has a CREED that rarely matches their DEED, we've tried to structure a church that does what we say we're about (Kingdom mindedness through Partnerships, Focus on relationships and community, Serving the poor, etc…)  So we make structural sacrifices to that end. We just believe that you can't engage a culture without engaging the needs of culture. And that's what we're trying to do.
One of my favorite @brandonhatmaker tweets I've received in the past few months was one that affirmed this stance. After posting a few theological views and encouragements on serving those in need I got this message on Twitter from someone living in NYC who I had never met before but somehow was following me on twitter: "just wanted you to know that if I wasn't a back-slidden Jewish Athiest, you would be my pastor."
Random.
I replied to him that that might have been the best compliment I had ever had in my life.
He replied that he really meant it and hoped that I did indeed take it as encouragement. wow.
How many churches are part of the Austin New Church network at this time?
We're only a two year old church plant so it's a small network so far. But in addition to us, we've helped plant two other churches in Austin, have partnered with a small network of house churches, have a handful of other church plants that serve with us regularly, and have plans to plant 2-3 churches in the next 12 months. All are a part of our network (Newly named Restore Austin Network).
We also have several other churches who are "unofficially" affiliated, and serve with us regularly (a ton of non-Christians, and some non-faith based organizations as well). We typically have a couple pastors, church leaders, church planting core teams, and other groups join us from out of state for our Serve Austin experiences.
We recently connected nationally with a network of missional churches called Missio and are about to connect with the New Thing Network.
Is each church similar in beliefs, worship style, size and type of people who attend? If not, can you describe the differences?
Very similar in theology, ecclesiology, and missiology. Very diverse in style, size, etc… We're a pretty diverse white/hispanic church in south Austin. We helped plant a majority Hispanic east-Austin church that started with more of a liturgical format, and we have an African American plant in downtown Austin seeking to redefine missional for the African American church. House church speaks for itself.
In this world that has a church building on every corner, sometimes four churches on a corner, why plant new churches?
First, I think it's biblical to plant the gospel in community not just plant churches. Second, and strategically speaking, I just think we need to continue to not just plant churches, but to continuously discover new forms of church. Historically the church has moved forward when we do. That, and the truth is, of the four churches on every corner in most towns, the majority of those churches are no longer growing (or very close to dying).
I've heard recently that 43,000 Christians leave the church in a week in America. That's a lot. 2% a year give or take. In one year that doesn't seem like that much… but over 10 years, wow! That just affirms my belief that we need to continuously pioneer new forms of church… and celebrate all forms of church.
As some Christian research states, 83% of Americans do not attend church and that number is rising each year. Is the answer to solve this problem creating new mega churches, planting micro-church networks, revitalizing old and dying churches or a combination of all three?
I do think it's all three. mostly because all three exist already in our culture with actual people who know people already in them. different gifting will result in different forms. In most towns we have only mega churches and small churches wanting to be mega churches. But there are so many people who crave different forms. I think ANC is called to plant as many healthy "middle" sized churches as possible. We'd rather be 10 churches of 400 than 1 church of 4000. Hope that answers your question.
As a church planter, do you have a set schedule or are you on call 24/7?
There's no part time ministry, bottom line. But this form we've found has given me more margin in my life than I've ever had. I spend nearly half my time with other church planters and emerging leaders. I love pouring into others and helping them succeed. I love seeing Kingdom partnerships emerge. We do simple church, so our leadership is decentralized in many ways, so our form requires less unscheduled time from me than other forms I've been a part of. The exchange is that it requires more upfront planning time, but that is probably one of the things that comes more naturally to me. As a dad of three kids with two on the way from ethiopia… I love the pace of my life right now.
Did you pastor a traditional church before Austin New Church began? If so, what inspired you to leave become a leader of ANC?
Some say that the new "traditional" church is the suburban megachurch. If that's so, then yes… that was my background prior to ANC. Why did we leave? God led us to start ANC more as a moral imperative than it was to leave or start a church. He told us to go serve the poor and be kingdom minded. We did and ANC emerged out of that vision. It's obviously been more complicated and intentional than that… but that's the nutshell.
This is almost over now, just two more questions. I couldn't end before having you share one of your most amazing life stories that have come out of Austin New Church.
I know this is a cheap way out… but you'll have to chose between one of three: http://www.austinnewchurch.com/#/about-anc
Finally, will you please tweet me when your social media fast is over so I know when June begins? I'm like so many other people in this world. If I don't see it on Twitter, I don't think it's happened. Maybe it's time I go on a social media fast too. : )
Sounds like a deal.
Comments
comments