December 16, 2014 is a sad day for Trinity Football. This is the day Coach Lineweaver finally called it quits. You can read more about his retirement here. Thank you Coach for giving Trinity fans so many great years of football!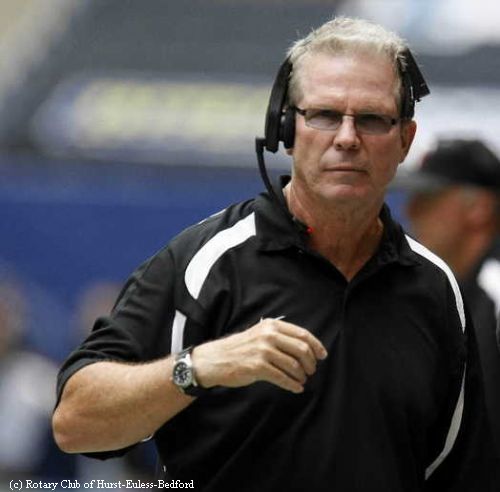 Coach Lineweaver Speaks, We Should Listen
I first met Trinity head coach Steve Lineweaver at Lushaj's Pizza & Pasta, just across the street from Trinity High School. He actually held the door open for me and my son when we were leaving. Outside, I told him I kept hearing people call him "Coach." I then asked what type of coach he was. Duh! I'd always rooted for the Trinity Trojans to win, but had not paid attention to their coach. Well, this man is definitely the type of person to whom a lot of attention is paid. Coach Lineweaveris one of the best High School football coaches in America. His teams at Trinity have won three state championships (2005, 2007 and 2009). His overall record as the Trinity Trojans head coach (as of the beginning of the playoffs in 2012) is 96-11. Coach Lineweaver is a a soft spoken man with an eye on creating great men and citizens. Developing great football players happens under the tutelage of Coach Lineweaver, but that is not his main goal.
Coach Lineweaver is a man of very few words, but they are important words and here they are:
Besides helping kids become winners on a football field, is there an alternative way to judge success for a football coach?
Like many other influences in a boy's life, we won't know the impact we had (on our players) until years later when the boy becomes a man, with a job, a wife and kids… Hopefully he will be a man of service.
How important is good sportsmanship in high school sports? And what kind of negative impact can bad sportsmanship have on a team?
Good sportsmanship displayed assures that sports is in the right perspective. Bad sportsmanship shows a poor representation to a lot of great entities… the school, the team, the community, the boy's family, the coaching staff. Good sportsmanship acts are praised, pointed out and encouraged.
How do your players learn better sportsmanship under your tutelage? What tips or words of wisdom can you provide other coaches or to parents of younger children about nurturing sportsmanship?
It is taught in our football program during "Success Class" (Character education 15 minutes a day, before practice starts…. All year round.) Tips- Model it yourself, as a coach.
In all your years of coaching, is there one example of teamwork that stands out in your mind?
Example of teamwork.: We used to give out weekly helmet decals (awards) for stellar plays. I noticed one "star"player was handing his decals out to teammates who did not have any awards to put on their helmets. … Great lesson in showing teammates matter. (I quit handing out individual awards after that.)
We live in a world where a lot of people lose hope, kids get out from football teams, parents get out from jobs, people get cut from relationships. As a well respected person, do you have any words of wisdom for those who have lost hope?
Jeremiah 29:11 – For I know the plans I have for you," declares the Lord, "plans to prosper you and not to harm you, plans to give you hope and a future.
Now, just a few favorites and preferences of yours…. (feel free to elaborate if you'd like i.e why Chevy or Ford is better than the other)
Country music or Hip Hop? Country
Ford or Chevy? Ford is better. Why? Because of the slogan: "Built Ford Tough."
Favorite football movie? The movie with a boy named Radio.
Favorite Dallas Cowboy? I like the coach, Jason Garrett (high character, intelligent).
Favorite food at Lushaj's Pizza & Pasta? Stromboli !!!!!!!
Thank you so much Coach Lineweaver for doing this interview. If you've enjoyed it, who would you recommend I interview next for GotInterviews.com?
Suggested next interviews: Barry Morgan (Colleyville Covenant)
Comments
comments