I first met Christian, the owner of MAPS Academy in Colleyville while he was training some young baseball players over the summer. The more I was able to talk with Christian, the more impressed I was with the elite performance coaching he offered through MAPS. I loved his philosophy on helping athletes become all they can be and the need to instill in them discipline and a positive mindset. I told Christian I had to know more and asked if he'd be up for an interview. Here are some questions I came up with for elite performance coach Christian Ballard. In the comments after the interview, feel free to ask Christian any other questions you might have about the elite performance coaching he offers. Now on to the interview…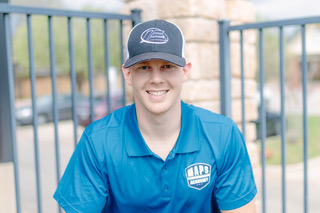 In Colleyville, Southlake and the HEB area, those who are trying to improve their athletic performance or increase their strength specifically for playing competitive sports, many have sought out your coaching. Can you tell us a bit about the coaching you provide?
We specialize in Athletic Performance and Functional Strength and Conditioning. M.A.P.S. Training systems was created around the acronym M.A.P.S. (Mobility, Aesthetics, Performance, Strength) itself. We believe that each area of M.A.P.S. has a significant role in the development of our clients, and if any of these attributes are missing, the overall product will not be optimized. We work with clients on the Physical, Mental and Nutritional aspects of performance.
So you do your coaching through MAPS Academy in Grapevine (Hall Johnson/121), just down the street from Colleyville Heritage H.S. Have you always been located at this location and how long have you been doing personal elite performance coaching?
M.A.P.S. ACADEMY (Our home location) was opened in December of 2016. I have personally been in the Fitness/Strength and conditioning field for 5 years as a professional, but have been immersed in training throughout my athletic career.
How did you first get involved in personal coaching? Was it something you benefitted when you were younger?
I fell in love with sports (football in particular) at a very early age. My Dad was a former division 1 athlete who has maintained his love for lifting throughout his life. Needless to say, as soon as I was old enough to train, we did! I can remember working out in his "office" from an early age. Our setup was sparse but provided everything needed for a teenager to fall in love with strength. As I grew older and stronger, the equipment eventually moved to the garage, the music got louder, and the workouts became more competitive. Some of the biggest fights and best bonding moments a father and son could have came during those sessions. The weight room know-how and familiarity benefited me greatly as I entered high school. I quickly excelled as a leader in our team workouts. Coaches would use my form and technique to demonstrate technique in various exercises and that background of movement kept me healthy throughout my HS career. Although I had a good understanding of the weight room, the nutritional and mental portions of my development were less than perfect and therefore I do not believe I achieved my true potential.
About the people you work with, do you only work with kids or do you also take on adult clients who want to improve their athletic performance?
My Team is comprised of coaches that specialize in different areas, from Fat-loss to Athletic Performance we have a program for you. Whether you're an adult weekend warrior looking to improve your performance in a 5k, Mud Run, etc. or just want to move and feel better while losing some fat and improving your quality of life, we MAP out a path to get you from where you are to where you want to be.
My specific niche is working with Rotational Athletes (Quarterbacks, Baseball players, Golfers, etc.) to assess and target the specific demands of their sport. This is where the ELITE portion of ELITE PERFORMANCE COACHING comes into play. There is no cookie cutter template when dealing with these very technical athletes and often times, the most minute detail will be the biggest difference maker in an athletes training.
How does your approach change from say high school athletes to an adult client?
The principles behind our training system do not change between general population and youth populations.
1.) Thoroughly Assess- (it is our job as a fitness/strength professional to leave no stone unturned when it comes to getting the client results. We look at every influential factor that may lead to or get in the way of the athlete or clients' goal)
2.) Move well. Move often (we must move well before we move often, this in reverse leads to injury)
3.) Patterns not Parts (we know that correctly training a pattern will leave no body part underdeveloped. Unless your sport is bodybuilding, it is inefficient to train someone as such.) (Push-Pull-Hinge-Squat-Loaded carry- and the 6th movement (tumbling, Crawling, climbing, etc.)
4.) Fill the empty buckets (Our clients are typically involved with a sport of some sort, and those sports fill some of the "buckets" we look at within the strength and conditioning field. We look at the specific traits that each sport requires and fill the "buckets" that are not getting filled.
When it comes to kids, what ages do you work with and what is the earliest a child should take part in strength coaching or speed coaching?
We typically start the training process at 9 years old, but research indicates that it is beneficial as early as 7 years of age. When a child is between the ages of 7-14, the central nervous system (CNS) plasticity is very high. When I say plasticity, I am referring to the ability that the CNS has to change. Think of it like a sponge, absorbing everything it is fed. If we stimulate the CNS with a variety of movement during the early stages it will be able to grasp it and store it for later use. Exposing our athletes to a variety of movement skills with a high emphasis on proper technique will produce a more athletic, durable, and higher performing athlete.
Do you specialize in working with athletes who play one particular sport?
My specific niche is working with Rotational Athletes (quarterbacks, baseball players, golfers, etc.) to assess and target the specific demands of their sport. This is where the ELITE portion of ELITE PERFORMANCE COACHING comes into play. There is no cookie cutter template when dealing with these very technical athletes and often times the most minute detail will be the biggest difference maker in an athletes training.
Can you run us through what the first few weeks looks like when it comes to helping out a football player and a baseball player? What are the differences and if there aren't any at the beginning of a program, how do the programs differ over time?
Every athletes' assessment will be different based upon the specifics of their sport. When working with our athletes, we are looking to target and develop the specific traits needed to be successful at their level of competition. Every assessment is different, but some common areas of focus are: Functional Movement Screen, Lifestyle factors (sleep, nutrition, hydration, stress, etc.)
We also look at joint by joint mobility in relation to their sport. Ex: Quarterback/pitchers need multi-segmental rotation (Segment 1- Thoracic Spine/ Segment 2-Hips) in order to get into the proper mechanical positions and optimize power production through those ranges. Scapular Control– Upward Rotation, Scapulohumeral rhythm.
Athletic performance testing (Power (lower, upper, core rotational) Speed (acceleration/max velocity, change of direction) Strength (Lower, Upper, Core)
We also take into account the clients injury history and then try to determine what factors played into the injuries occurrence, and ways to prevent this happening again.
Most athletes or parents of athletes understand that not all elite performance coaches are the same. What differentiates you and your work with MAPS from others in the Colleyville / Southlake / HEB area?
I truly believe it is our attention to detail and overwhelming passion for what we do that separates us from the rest. As I've mentioned before there is no stone left unturned when it comes to working with our clients. Being in the private sector can be scary as a strength coach. Our services cost money and clients expect to get a ROI anytime they come to us. At the school level, whether it be high-school or collegiate, you have guys/girls for 9 months wether they like you or not. We have to build trust, respect, and value from the moment the athlete walks into our facility.
In your opinion, do you think young athletes can obtain bad habits from their coaches, whether those are coaches of select teams or school coaches? If so, what are some of those bad habits kids can learn and that your coaching may help straighten out?
I think our youth are tremendously impressionable. I have two small children of my own and the things that they pick up are incredible. As a Coach/Teacher/Mentor to youth, we have to be aware of our actions at all times. Kids are constantly flooded with negativity these days through the non-stop news sources provided by social media. In a day and age where kids are forgetting more than they learn, we have to be purposeful with everything we do as coaches. So many of life lessons can be taught by how we respond to certain situations. As coaches we must be THE example of how to live and act. Hypocrisy is a hindrance to every athletes progress, creating buy-in is typically best done by being the example. So, to answer the question . . . YES.
These days, supplements seem to be a very big part of performance for athletes. What are your thoughts on protein supplements and do you think an athlete can ever be a good performer on the field without using nutritional / protein supplements?
Supplements supplement.
Food is the very best fuel for performance. Period. Supplements (like anything else) have their place in athletic performance, but they must seen and taken as stated above. They supplement the sound nutritional practices that are currently being demonstrated by an athlete. We do not recommend any supplementation until proper nutritional practice is being demonstrated. We do believe however that using a protein powder after a tough workout while on the way to practice is a great way to begin the recovery process and keep your body fueled. We also recommend that all supplements are taken with real food. EX: protein shake and an apple post workout.
I personally know of some of the success stories who have benefited from you coaching, but I'd like my readers to hear from you personally about some of the young athletes you've helped progress to a higher level with their play, their strength and their overall athletic ability.
Every athlete I've worked with that has "bought in" has some version of their own success story. Not all will make it to the collegiate or professional level, but every athlete that buys in and owns the "process" will grow and succeed in our program.
One of my most notable athletes will be entering his first season of Division 1 baseball this spring at Dallas Baptist University (DBU). I first met this individual right before his high school graduation. He had just completed an incredible year as a two sport athlete at a small private school. He was honored with the High School Player of the Year award and was overall, an outstanding athlete. Although he was such a special athlete, he did not have a hot recruiting trail due to his level of competition and his wiry frame. He knew he could control one of those factors and sought my help. He came to me as a scrawny 6'2" 180 lb outfielder with tremendous upside, and from day one, I knew he would be special. He owned every part of what I asked of him, from learning to cook and preparing meals for the week, never missing a training session (even during the summer before college), and staying focused on his main goal to be the best JUCO player in the country. Through his determination, we were able to add 25 lbs to his frame in a 16 week span. He had always hit the ball all over the park, but typically found himself at 2nd base after the ball would fall short of the warning track. With his newfound strength and size, he proceeded to average .350+, Hit 20+ doubles, and break the previous homer record (14) with 26 homers during his freshman season. His hard work paid off, landing him on the JUCO All-American list and awarding him a Division 1 scholarship to play baseball.
The flashy numbers, weight/strength gain, and overall athleticism improvement will always be metrics that we value and push towards, but they are often small in comparison to the impact we can have on an athlete by educating them on what it takes to be their best self.
Thanks Christian for your insightful answers.
We hope you've enjoyed our interview with Colleyville based elite performance coach Christian Ballard. If you're seeking out elite performance coaching or strength coaching in the Colleyville / Southlake / HEB area for yourself or your son or daughter, you can find out more information about M.A.P.S. by visiting their website or checking them out on Instagram or Facebook.
Website: www.mapsfitness.com
Facebook: MAPSacademy
Instagram: @MAPSacademy
Comments
comments