Sean Forbes: Can You Hear Him Now?
.
What stereotypes come to mind when you think of the word, "deaf?" A person shuttered in silence living an isolated life? That ancient movie Children of a Lesser God starring Marlee Matlin? Or maybe you think of that kid on the play ground in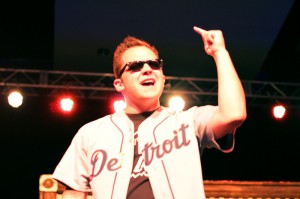 elementary school you made fun of because he talked funny? Maybe all those come to mind, but the idea of a throng of young adults waiting in line to enter a music venue to experience their favorite rapper, singer or musician probably isn't even on the fringe of your imagination. After all, how can the deaf enjoy music if they can't hear it?
The idea of deaf individuals enjoying a sold out concert,a dazzling light show and interacting with a band, or better yet, becoming musicians themselves,doesn't seem real. However, rapper Sean Forbes is changing the way people view the deaf community. Sean Forbes brings an empowering message in his recordings and in his live concerts to each deaf and hearing member in his audiences. Sean Forbes is deaf, loud, and completely unstoppable.
After a battle with spinal meningitis left him deaf as an infant, Forbes did not let his inability to hear stop him from pursuing a normal life. He was introduced to music at an early age when he received his first drum set at the age of five. Like most deaf kids growing up, he experienced a number of people who told him he could never be a musician due to his lack of hearing. Although the odds seemed stacked against him, Sean never gave up his dream of entertaining audiences.
"I felt that people were going to judge me off the bat by my deafness so I figured why not be the first to address it?" Forbes stated in a recent interview. He did just that. Forbes' first song recorded with his best friend and producer, Jake Bass, was titled "I'm Deaf". The song chronicles Forbes' life as a deaf rapper and debunks the common myth that the deaf cannot be successful, especially in the music industry, where hearing is thought to be essential. "There's people out there telling you what you can't do, you can't overcome, you've got too much to prove. I never listened," raps Forbes. He makes his message loud and clear: THERE'S NOTHING THAT THE DEAF CAN'T DO EXCEPT HEAR!
Forbes' message has been well heard and accepted by the deaf and hearing communities alike. "The song has over half a million views on it and every time I perform it across the country both hearing and deaf people know it…it paved the way for the other songs I've written. Sometimes I wonder if I didn't do that that would I have been able to write songs like 'Watch These Hands' or 'Don't Let Anything Hold You Back'…. 'I'm Deaf started it all and it certainly boosted my confidence in my songwriting and rapping abilities", Forbes explains.
Fans who are hoping to read more about Forbes' inspiring story may need to wait awhile before he releases a memoir. "People have asked me about this and my answer is always, 'I'm not done.' There is so much more than I intend to give, it's only the beginning." Forbes plans to continue spreading his message of hope and inspiration to others as he tours and records. Sean continues to work on his next album with producer Jake Bass. "The new material is a huge step up for me. I've been sharing the songs secretly with a few people and they're amazed at how deep the lyrics are, my flow on the songs. I've got a lot more confidence in my abilities than when I first started out and I'm looking forward to showing my growth as an artist."
Check out www.deafandloud.com for the latest Sean Forbes tour dates. You can also book him for performances and speaking events.for your corporate, educational, organization, or college lecture engagement.Also, Forbes and his band frequently do special appearances at deaf high schools, having performed in front of over 20,000 students since 2009.
(There will be more on Sean Forbes in an upcoming article)
Buy Today
Comments
comments