Book Title: Guess How Much I Love You
Author: Sam McBratney
Illustrator: Anita Jeram
Publisher: Candlewick Press
Year Published: 2008
Availability: Click for an available copy from Amazon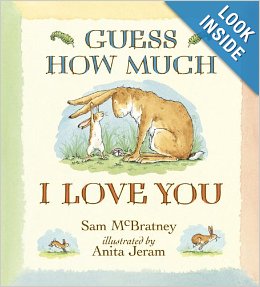 Did Sam McBratney know when he sat down to pen this picture book, that he was creating a modern day classic. I don't know any grandmother who does not want to read Guess How Much I Love You to their own granddaughters or grandsons. This goes the same for mothers too. For that matter, daddies, you need to get in on this syrupy deal right here.
Read this book to your children and grandchildren and when they grow up, go find some neglected children who are rarely read to and read it to them. Everyone needs to know exactly how much they are loved. Make a game out of it as the characters in Guess How Much I Love You do. My son is now a teen and this book still holds a treasured place in our home.
Honestly, children really need to know they are loved and you better tell them somehow, even if it might only be in the form of a picture book text.
If you've read Guess How Much I Love You to your children or grandchildren, we'd love to know your thoughts on this modern day classic.
.
.
.
.
Comments
comments