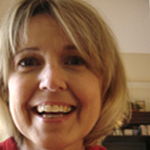 What is the oldest picture, drawing or painting of yours still in existence?
I believe my mother saved a drawing of our church I did in Sunday School when I was about four; it wasn't for the art, though. I had crayoned a charmingly precocious question about the Sunday School lesson below the picture. 🙂
Who was the first person to say you had a real talent for illustration?
I think I always drew, and my family sort of took it for granted and never thought to discuss it, particularly. The first person to really encourage me was a junior high art teacher (who was probably just thrilled to have someone in his class who actually wanted to be there). I remember you and the cafeteria murals you let me work on, Mr. Baltzegar!
Did you have other encouragers along the way?
When I went back for my BFA (had graduated in English the year before), I was a graphic design major–which at that time was part of the fine arts curriculum. My design professors encouraged me, but it was my drawing instructor, Clark Stewart, who planted the seeds of an illustration career. (Gosh, I can't believe I'm remembering these names!)
You've transitioned from graphic designer of business publications to children's picture book illustrator. Was that an easy transition for you?
Mentally, yes–I had been wanting to try illustrating for children for–oh, years and years. It took the internet to make it possible, since I was located in the Southeast, nowhere near any book publishers.
In practical terms, it took about a year to pull together a portfolio of samples. I had been doing publicity for my daughters' dance company and designing orientation packets for a local university–that was as close as I had been to illustrating for children until then.
How do you feel about the future of the picture book industry?
Well, I think the new delivery systems are tremendously exciting. Anything that encourages reading is good–and the interactive platforms will be particularly useful for a whole range of concept books and nonfiction publications.
I do think of picture books as an art form, and I think holding a printed book and turning the pages engages a child in an important way. I've heard speculation that printed books will become more like artisan objects, lovingly crafted–and expensive. That might be an attractive notion artistically, but I'm not in any way a book snob: I hope there are always mass-produced books on sale at grocery stores and similar outlets, books every child can afford to own.

Will you need to change the way you illustrate books to make your drawings adaptable to digital media like electronic Ubooks, iPads and other forms of digital media? If so, in what way?
That's something I'm in the process of investigating. There doesn't seem to be an industry standard yet with regard to size and resolution of artwork for the various formats. The good news is, I already work small, having conformed long ago to the technical limitations of my home scanner–and I don't have a lot of detail that would get lost when sized down. I think I will liven up my palette a bit. The watercolor washes I rely on now tend to fade out. This might even get me to experiment seriously with digital art. I use vector illustrations in my design work occasionally, but haven't done much illustrating on the computer.
Of the books you've illustrated, which one was the most fun to work on? Which was the most challenging?
My first book commission was both–most fun and most challenging. It was not a picture book; it was a book club edition of The Voyages of Doctor Dolittle. I was asked to do the color cover and black and white line "section openers"–full page illustrations to introduce each of the book's six parts. I was thrilled, because I remembered how much I always loved "book club day" as a child. The thought that a new generation of children would be introduced to a classic character like Dr. Dolittle through my illustrations was beyond exciting.
I also felt tremendous pressure to get it right. I owned the Trophy edition, which featured the illustrations of the author, Hugh Lofting–how could I possibly top that? I had also seen a lavishly produced edition illustrated by a Famous Artist–who had done a gorgeous job of the cover–only it was inaccurate: the parrot, Polynesia was not the right species! (Polynesia is quite specifically described in the book as an African Gray–not nearly as colorful and exotic as the South American beauty pictured on the later edition–and I thought kids would notice).
So there was lots of research, and great satisfaction. The cover is still one of my favorite pieces–but the economy stepped in at the wrong time. The book club publisher went bankrupt while the color plates were being prepared for printing, and the book was never published. Oh, well.
Is there a certain author whose books you would love to illustrate?
I would love to do other remakes of classic children's books. One of my all-time favorites as a child, The Twenty-One Balloons, is about due for an overhaul, if anyone's listening!
What were some of your favorite picture books as a child and as a mother reading to your children?
I came along just when Little Golden Books made their debut, and they certainly had the desired effect on me. I adored all my Golden Books–with the printed "bookplate" on the inside front cover for me to write my name on. Later, I made friends with a teacher who lived in our neighborhood, and who had ALL the Dr. Seuss books. She let me come over any time and sit for hours reading and re-reading them.
My husband and I were deliberately eclectic in our choices for our two daughters–their favorites ranged from mass-market Sesame Street tie-ins to Winnie-the Pooh. No book was an unworthy book in our house. My own favorite from that era was definitely Richard Scarry. And it's easy to see how much the girls cared for his books–most of them have been literally loved to death.
Were any of those picture books an influence on you or an inspiration to you in your own career?
Absolutely! If I could come close to Richard Scarry's vibrant, confident style, I would die happy. I was also greatly influenced by master draftsmen such as Maurice Sendak and Mercer Mayer, to name two. And I have to give a special shout-out to Joan Walsh Anglund from my own era. She was perhaps best known for her licensed greeting cards, which featured very stylized, deceptively uncomplicated child characters, but–oh, my goodness! She illustrated a landmark book, The Golden Collection of Children's Poetry, edited by Louis Untermeyer, that pretty much blew me away as a child. Her pen and ink illustrations are amazing.
What words of wisdom would you give aspiring picture book illustrators?
Practice, practice, practice, until you're comfortable enough with your chosen technique to forget about it, and concentrate on story-telling. Many beginning illustrators (myself included) have portfolios full of lovely, well-designed pieces that are better suited to the licensing market: they would make fabulous decorations for calendars and T-shirts and a whole host of children's products. But picture books require attention to story, and story must have a sense of place as well as characters who are believably grounded in that place, and who interact with each other and react to events.
If you couldn't pick up a pencil, paintbrush, or any other medium to draw, what career choice would you choose?
I'm a space science geek, so I would be whatever kind of engineer it would take to get me behind the scenes at NASA.
Who is the most famous person to ever taste your chicken/zucchini soup?
Since I make my chicken-zucchini soup only for family, I'll have to rely on one of my daughters or sons-in-law becoming famous one day. 🙂
What question about illustrating have you never been asked that you always wanted to be asked?
Gee–how about the one I'm always afraid will be asked: why do you keep doing this when it's so darned hard?
Okay, (go ahead and answer that question. : )
The quick answer is, I really have no idea. I think I'm just stubborn. Most of us get by on persistence, after all.
Finally, can you tell us something about yourself that no one else knows?
Ha–no! That's my problem–I tend to babble on at the least encouragement (haven't you noticed?). I think I even mentioned on somebody's blog that I have this strange compulsion to save the little plastic closer-thingies from bread wrappers. I keep them in a plastic bag. That's about as juicy as it gets, folks!
Comments
comments