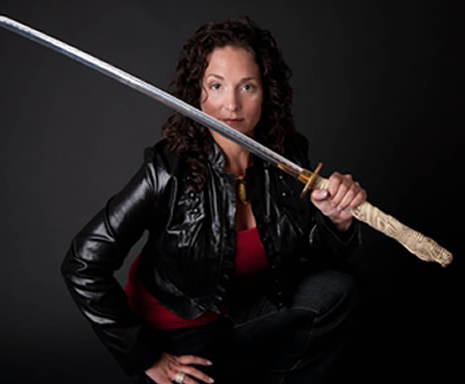 .
.
I first met Ann Evanston on Twitter, as many of you probably have.  Ann Evanston is a self-made woman. She's tapped into her most influential self and has helped many others do the same. She is a warrior in the land of entrepreneurialism. She slays any doubts and excuses that come her way.  She can do the same for you too.  Now onto…
I'm very thankful to Ann for her amazing answers to my questions. I've really enjoyed reading all she had to say. I know you will too. Now onto…  The Ann Evanston Interview
.
Ann, you have a new book out titled The Influence Factor, a great book which helps people become a magnet to others, a compelling force in both their own personal and business lives and your book demonstrates how all that ability is within each of us. Have there been authors who were a big influence on you or your writing style?
Yes! As I looked at my SHELVES of self-help and business books, I realized that the only ones that I had actually read to the very last page where between 100-125 pages long. Short and powerful. Too many of the 250-300 page books I get 1-2 chapters in, figure "I got it" and stop (Bet those authors cringe huh?) BUT, I bet I am not that different than others. So mine is about 100 pages.
I write a little blog and did a video on it where I share some of those books: http://www.warrior-preneur.com/2012/05/31/influence-factor-length-matter/
In addition, the book is very ACTION ORIENTED- I give you things to DO to achieve and learn about your influential voice: assessments, activities and writing assignments.
How has being a social psychologist helped you in the area of social media? Does it give you an edge you might not have otherwise had?
Understanding human behavior, most importantly the intrinsic motivators of others that attracts them to what I have to offer, has helped tremendously. Most entrepreneurs don't study this, so by nature, they share in social media based on what they are motivated by, and that attracts a smaller population of people. Therefore, your tribe, and customer base is smaller.
I have developed this program over the years called the "Warriors Code" and through the 30th of January 2013, anyone can get a FREE sneak peek (audio, handout and mini self assessment) if they go to http://MoreIncomeMoreImpact.com (tons of other AMAZING resources available FREE). After that, the course will be offered online, people can contact me for details (and who knows, if you're in my newsletter, I often allow gifts to those in!).
I think I may know your answer to this question, but I would wonder what your thoughts are on buying Twitter followers or Facebook fans? Are there negative aspects to this practice?
BOOO! HISS! Stop getting caught up in that number, and look at the quality of connections in social media. Honestly, half the time they are "bot" accounts (no real person is looking and reading the stream, so they are a waste of time.
I see on your "about" page that you are ranked as #2 of all the top influencers in the SF bay area on Twitter. Where is that ranking from and what practices would you say garner you such a high ranking?
Lol- well it's all relative huh? That's an old statistic, but I joined Twitter in June 2008, yes, back in the old days. So that is part of it.
You are a founding associate member of the Women Speakers Association, can you tell my readers more about the association and some of the benefits of becoming a member?
I have been a speaker forever, I started toastmasters in the 7th grade! I've been a professionally paid speaker since 1995. WSA, like any organization, is only as good as you become involved and WORK the benefits. Just becoming a member isn't enough. This is true of anywhere you network!
You speak a lot on attitude. Can you explain a little bit on how having a good or bad attitude affects the work of an entrepreneur?
It's all mind body connection isn't it? One thing I would say about attitudes of entrepreneurs is that you have to get over the attitude of "if you build it they will come" (from Field of Dreams). I watch too many entrepreneurs launch something, put it out there at one meeting, or one tweet or Facebook post, and the next time it's something new. Consistent and Persistent are critical attitudes if you want success as an entrepreneur (and I have been self-employed since 1997).
Why do so many people today, especially entrepreneurs, lose focus of their core values and their mission? Also, what could help entrepreneurs stay more focused and thus, more successful?
I totally agree, and I think there are many reasons, but the biggest in my mind? Not having their business mission and values align with the Vision of their Most Influential Self. Career (being and entrepreneur, small business owner) is only ONE of the 6 core influencers in our lives. And until we align them authentically, we can lose focus.
Deep I know huh? Many entrepreneurs just want to say that they have so many ideas, or need to make the buck, but all of that become very clear when you align your most Influential Self. This is the part of my coaching that I love, is when we bring this together and it clicks. http://www.udemy.com/vision-of-your-most-influential-self-ann-evanston/
Can you share some about your earliest effort at being an entrepreneur? I read you started your own sorority in college? Where was that? And why start your own sorority? The fact that it's still thriving on campus 20+ years later is impressive.
I did! That would be my first, other than some crazy things I did as a teen to earn a buck! I went to Whitman in Walla Walla. The sorority is called Zeta Pi.
What lessons did you learn from that endeavor that you still implement today when working on your entrepreneurial efforts?
Brand image is tied to who you are.
I have to be able to clarify what matters most to me and say NO to the rest.
Strategy is more important than just doing.
.
Please give some words of wisdom to entrepreneurs who say, "I can't make my business work because things are tough right now," or "My niche is just way too competitive to succeed."
Ah, back at attitude! Scarcity thinking is alive and well, you have to change the scarcity thinking! I'd also challenge some of these people and ask if they really are entrepreneurs, or just unemployed corporate people trying to make some money because they can't get a job right now. Ouch, that was painful huh? Here is the reality of an entrepreneur: We work EVERY DAY to earn the income we desire. And anything worth having is worth working on. But the work isn't in creating something new to sell, it's in the planning, forecasting and marketing strategies you build and then implement. Remember consistent and persistent will always make money.
One of the many services you provide to entrepreneurs is coaching. Can you tell entrepreneurs who have considered hiring a coach, but have not yet taken the step in hiring one, what coaching is all about and how someone can tell a good coach from someone who may just out to make a quick buck?
Oh I could write on this forever…1- You have to know EXACTLY what you need to WORK on before hiring a coach, so you can ask specific questions about fit. 2-You want a coach that will push you out of your comfort zone (otherwise they are a counselor) 3- Ask the coach what their process, or system is for helping you, any good coach has one. If they can't speak to steps, or where they start to get you to where you want to be, run.
See, think coach like in sports. A good coach knows how to win the game, and has a way to bring the BEST YOU to win the game.
Finally, a rapid fire round of questions……
Best business book you've read? I have three, but every entrepreneur needs to read The E-Myth, by Michael Gerber
Best pizza in San Francisco? Never had pizza in San Francisco, but we get Zachary's in Berkeley J
Favorite entrepreneur story you've read or heard about? I like any failure story, but few want to share their failure…
Favorite sports teams? Denver Broncos GO ORANGE CRUSH!
Cats or dogs? Both. My cat, Wiley died at 20 years old this past May, Blaze is our German Sheppard
Favorite all time Saturday Night Live skit? That's hard, Mr Bill? Rosana? Candy-gram?
If you could only choose Facebook or Twitter, which would it be? Twitter
Favorite movie of all time? Don't really have one, but if I have to pick….Charlie and the Chocolate Factory
I want to give a big thank you to Ann Evanston for all the time she took out of her schedule to give my readers some advice, helpful tips and most importantly, inspiration.

Get in touch with Ann Evanston
On Twitter: @annevanston
Facebook:  http://facebook.com/warriorpreneur
Website: Warrior-preneur.com
Learn more about her class on the Vision of Your Most Influential Self
Comments
comments