Carol Gordon Ekster Speaks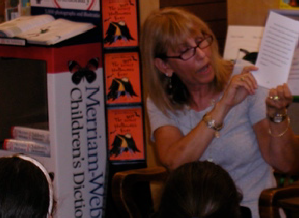 Carol Gordon Ekster is an amazing author. She writes for children and she does an inspiring and encouraging job. She is the author of Where Am I Sleeping Tonight?- A Story of Divorce and Ruth the Sleuth and the Messy Room. I first remember Carol from a great amount of time I spent on Verla Kay's Blueboard. I now see Carol quite often via her Twitter account. She's an active tweep and I always look forward to her tweets. If you don't yet follow her on Twitter, please do so. She can be found at http://twitter.com/cekster.

You began writing and submitting children's books at the end of your 35 year teaching career, but was there anything you remember writing as a child that you could amuse my readers with? Something that amuses you still today?
Oh, yes! I wrote a story in 6th grade that was bound with a cover. It was called "Dolly". I even illustrated it. Boy, is it cheesy! I was so dramatic and used so many adjectives. It was quite the sob story about an orphan. I shared it with my students after I became an author to show them how fun it is to save what you wrote and be able to look back at who you were and how we change over time. Each child in my class went home at the end of the year with a bound book of their writings ….poetry and pieces about their lives. It was a pretty special memory of the year. Before I even thought of becoming an author I had writing workshops with my class.
Throughout your years of teaching , has any child you've taught gone on to make writing their own career? Has anyone come back to say, "Thank you Mrs. Ekster," and if so, how did that make you feel?
Many children, some who are now adults, told me how they love to write and were inspired in my classroom. I have some amazing letters from students and parents expressing their gratitude for my dedication and unusual style of teaching. It makes me feel incredible to have been told that I will have an influence on their children for their entire lives. That feeling is how I would describe success! But one e-mail I received the year I retired popped up in my mind when you asked this question. A student from over 30 years before said he heard I retired and said many lovely things to me. But the comment that really pulled at my heart strings was that when his daughters, now in elementary school, get their teachers in the beginning of each school year, he always hopes they will be as wonderful as me.
Writing is not an easy profession. There are typically many more downs than ups when it comes to the journey to publication. How did you persist when you received rejections? And how many rejections did you receive before selling your first book?
I am one determined woman….always have been. My first book sold after twelve rejections. But let me give you a clearer picture. I recently reached the number 800 manuscripts that I've sent out to publishers in the ten years I've been writing. And the total number of manuscripts I've written is approaching fifty. I've only sold three out of that number, two books and one magazine article. Those are not good odds! You must learn to persevere if you want to succeed in publishing. I get a rejection and hang onto hope by sending it out to another publisher. And I've decided that not everything I write has to get published….it's just part of the writing process. Rejection is part of the process as well. I remember hearing Jane Yolen speak at a conference. She mentioned she had just gotten three rejections the day before. If Jane Yolen, a prolific and award winning author, still gets rejections, then it was clear to me – you can't take rejection personally, and you need tough skin to remain in this business.
On the front page of your website, you list your books, but you also mention how they came to be sold. I don't see that on many author websites. Is there a certain reason you provide those details?
I wanted to give others who are interested in becoming a children's author a realistic look into this journey. Many people say, "I always wanted to write a children's book!" I think most people have no idea how difficult the road to publication is and how much effort it takes to work on the craft of writing. I also wanted to encourage others to join SCBWI. It was because of targeted submissions, both of which I learned of through SCBWI, that I am published.
I recently saw on Twitter that you received some good critiques and are busy on a revision. If you can reveal a few details about your latest story, we'd love to hear about it.
Oh, it's such a fun picture book! I don't want to divulge too much. But it has to do with dancing books and learning about the different genres in the library. I usually get excited about each new book that I see as having potential to touch lives and be a positive addition to the world of children's literature.
On the same topic – critiques – what makes a good critique a good critique?
A good critique for me is one where someone saw a way to make my story shine brighter. I've gotten so many helpful and incredible suggestions from small word choices to main story concepts. I love when I come home and read through the notes on the manuscripts and see a suggestion that clicks with me. The hard work is choosing what advice you want to take while still staying true to your own voice and vision. Many times it's funny how some group members can want to change your entire plot line. I think, well they can write that story, but that's not the direction I want to go in.
Your latest book is about messy little girl named Ruth. Your previous book, Where am I Sleeping Tonight? – A Story of Divorce featured two little boys named Mark and Evan. Where do the names of your characters come from? Is there any science, any rhyme or reason when picking a character name?
In my newest book, Ruth the Sleuth and The Messy Room, Ruth happens to be my mom's name and she can find anything she sets her mind to. The character in my story says she can find anything she sets her mind to, but of course, learns it's easier and faster to locate items when you're more organized. I also wanted a fun rhyming title, inspired by Dora the Explorer, and came up with "Ruth the Sleuth". In my first book, Where am I Sleeping Tonight? – A Story of Divorce, the boy in my class, who lived the schedule of shared custody discussed in the book, was Evan, so I used his name for the younger brother. I used my husband's name, Mark, for the main character. I use many former special students' names in my stories as well as some names of friends and relatives. Sometimes I just go to the internet to find popular names. I think for kids, it's cool to find your name inside the pages of a book. I don't have any set science to picking names. I go with my feelings. And sometimes I change character names after the story is finished!
You love to promote your books. What are your favorite avenues of promotion?
I'm not sure I LOVE promotion. I find it stressful. I like to be very organized and prepared and exciting. That takes work! For my first school visit, I presented to two groups of about one hundred in each group. It was wonderful to see kids looking up at me again and see they were really interested in what I had to say. It's different coming in as a visitor. You don't have that rapport and mutual love and respect already built up that occurs between teacher and student. I also have presented at a few conferences for teachers and librarians and once for guidance counselors. I love to inspire other professionals to use picture books to reach children. Twitter and Facebook are quick and easy and wonderful ways to get your name out there. I connected with you on Twitter! But honestly, when I started to write, I had no idea that I'd have to do so much more than write. This has been an incredible opportunity for growth for me.
In this world of email, is there still such a thing as an old fashioned piece of fan mail? If so, do you have a favorite piece?
I haven't gotten any snail mail from fans, but I have gotten some e-mail correspondence.
About how many total manuscripts have you written, picture books and magazine submissions combined?
I've written close to fifty manuscripts so far, and have many ideas waiting to be developed in my "story ideas folder".
If you were not allowed to ever write another word for children, what genre would you turn your writing skills toward?
I can't imagine such a thing, but I might try to write for educators with hopes of helping to inspire them to teach with love and passion.
Finally, a rapid fire round of questions. One word answers are fine, but minor elaboration is definitely encouraged.
Coffee or tea? Coffee
Circles or squares? Circles
Mountains or plains? Plains
Buddha, Mohammed, or Jesus? Buddha
Dark chocolate, white chocolate or milk chocolate? Dark
Starbucks or Dunkin' Donuts? Starbucks
Your 4th grade year or 11th grade? I LOVED school and remember both years fondly. But fourth grade was certainly easier! And I can still picture my fourth grade teacher more clearly than most of the 11th grade teachers.
Late nights or early mornings? Early mornings.
New pair of shoes or a new purse? Tough one…I want both!
Thank you so much for your time Carol. This interview has been a long time in the making and I appreciate you providing such great answers.
Please visit Carol's website and order her latest book Ruth the Sleuth and the Messy Room
Comments
comments