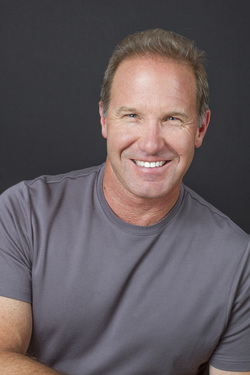 I am a huge fan of Leave it to Beaver. So when I saw that a new book had been written by Ken Osmond (the actor who portrayed Eddie Haskell), I was thrilled. I searched for the book on Amazon on the day it was released and saw there was a co-author to the book and he is the talented crime/mystery writer Christopher Lynch. Knowing a little about Ken Osmond, the fact that he was a police officer, I think having the author of the One Eyed Jack crime novels co-author his biography was a perfect fit.
Christopher, how did you get involved in the writing of EDDIE: The life and times of America's preeminent bad boy?
I normally write a crime novel series about a professional blackmailer named One Eyed Jack. I had done a few profile pieces on individuals for some magazines, but I had never considered writing a full-length biography.
Then in April of 2013, I noticed a news article trending on Yahoo that stated that Frank "Lumpy" Bank had died. When I saw that it trended for 3 full days, I realized that there was still a lot of interest in the characters from the show. I read about Mr. Bank and saw that he had written a biography, Call me Lumpy.
I wondered at that point if there was a biography written about Eddie Haskell, who was the greatest character of all from the show – in fact, I consider him to be the most iconic TV character of all time. When I discovered that were no biographies written about him, I decided to pitch it to Mr. Osmond. I wrote him a pitch letter, signed a copy of my novel One Eyed Jack, mailed it off to him, and promptly forgot about it.
I was surprised and delighted two months later when he contacted me and told me that he really enjoyed my book – especially since he rarely reads fiction – and that we should get together and have a beer and talk about me writing his life story. I don't know what I was more excited about, writing his life story, or having a beer with Eddie Haskell!


Before working on EDDIE: The life and times of America's preeminent bad boy, would you say you were a big fan of Leave it to Beaver?
I wouldn't say I was a big fan of the show, probably average. But I was a big fan of Eddie. I think everyone knows an Eddie in their life (I knew two boni-fide Eddie Haskells) and it's amazing to me how his character has endured. Politicians love to claim the other side is acting like Eddie Haskell. Eddie Haskell was the inspiration for Bart Simpson. And Psychology Today Magazine has written articles on "Eddie Haskell Syndrome."
I think when you consider that all of this is occurring over a half a century after the show ended, it's pretty phenomenal.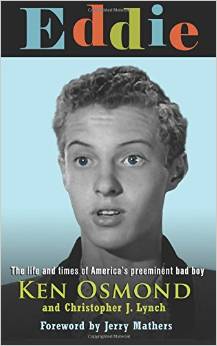 Eddie: The Life and Times of America's Preeminent Bad Boy
Before there was Eddie, there was Frankie. Can you tell me how and why the original character on Leave it to Beaver (the pilot) who gave Beaver, "the business," was replaced by Ken Osmond?
I actually interviewed Harry Shearer for the book. He explained that Frankie Bennett was a dark character, similar to others he had played on other shows. Whereas Frankie was a distant and somewhat menacing character, Eddie Haskell would be more of slick, con-artist type of bad boy. I think the producers' thought this might be an easier sell to the audience.
One very interesting bit of trivia: Harry Shearer says he has never seen a single episode of Leave it to Beaver. Hard to believe, isn't it?


Did Ken have a typical Hollywood stage mother who pushed him into acting?
Yes he did, she pushed he and his older brother Dayton into entertainment. But neither one of them resented her for it. With television growing like crazy back then and networks trying to fill time slots, there were lots of roles for lots of kids. Ken Osmond stated that it was no big deal to be a child actor back then, especially with the mania you see to day with child actors having millions of Twitter followers, stalkers, etc. He says he's glad to have grown up and been an actor when he did.


How did the producers find such a scoundrel to play the part of Eddie Haskell? Was that a requirement for the part?During auditions did he play his sweet and polite routine like he did with Mrs. Cleaver?
When he first auditioned for the part, he said it was the cattle-call to end all cattle-calls, with nearly every child actor in town there. He first auditioned (they actually called it interviewed then) with Harry Ackerman of Bewitched, I Dream of Jeannie fame. Then there were multiple callbacks, until he finally nailed it.
As far as his character, it sort of evolved as the show went on. If you watch his debut performance on the episode, The New Neighbors, he is still quite the obsequious sycophant to Mr. and Mrs. Cleaver, (so I'm sure during the interview he had to really know how to turn on the charm), but he is more of a tough talking wise-guy type to Wally and Beaver. Director Norman Tokar is credited with really developing the Eddie Haskell character throughout the show's run. He is also credited with developing the famous "Eddie Haskell Cackle."


You talk about his character evolving. I sometimes think fans forget Eddie was a character and not the real Ken Osmond. Can you talk about how Ken was different from Eddie and speak on some of the un-Eddie like things Ken has done over the years?
Part of the reason that Jerry Mathers and Tony Dow admit that Ken Osmond was the best actor on the program, is because he is nothing like the character he played. Eddie Haskell was a slacker; Ken Osmond has an incredible work ethic. Eddie Haskell was a braggart; Ken Osmond is an extremely humble man. And Eddie Haskell was a player; Ken Osmond is a devoted husband and father and is the only actor from the show to never have been divorced. He and his wife Sandy have been married for 45 years. He also is a huge supporter of our veterans and has written a book Above And Beyond about unsung military heroes. He also visited incarcerated veterans in prison.
Another interesting dichotomy is the fact that Ken Osmond started out playing a bad character on TV, and ended up being a devoted family man and vanguard of law and order in our society. In contrast, it seems as if a week cannot go by without news of some "cute" little kid actor who is now in trouble with the law, drug addicted or homeless.
To pass time on the set when not filming their specific scenes, what kind of things did Ken, Tony, Jerry and the rest of the cast do? And did Ken ever come to the point where he visited the set even when in weeks when he wasn't in the show?

He would never visit the set when he wasn't on a show as it was just considered work to him and no big deal. Besides that, when he wasn't excused for taping a show, he had to go to high school like all the rest of us.
All of the kids from the show used to pile into a car and go to lunch over at the iconic Bob's Big Boy in Toluca Lake. Other times, during down time on the set, they would play baseball or basketball. Ken wasn't really much of an athlete like Tony Dow, so he and Frank Bank would sit around talking about their favorite subjects: Cars, money and girls – not necessarily in that order.


Did Ken actually become friends with any of the guys or girls on the cast during the filming of Leave it to Beaver, or did those friendships come along later in life?
They were friends during the show – Ken was closest to Frank Bank – but the long term relationships really started to develop when they did the revival show.


If there were a top ten Eddie Haskell moments list, what are some moments from the original series that would have to be included?
If you were to ask Ken, he would say his favorite shows to do were the ones that showed Eddie to have a human, vulnerable side. I'd have to agree that it was his best acting on the program, as he had to balance the arrogant with the apologetic. My personal favorite episode was The Hypnotist, where Eddie convinces Beaver that he has hypnotized him and cannot break the spell.
Ken Osmond did not do a lot of acting after Leave it to Beaver. Some say that is because he was typecast as being a smarmy and annoying teen in Leave it to Beaver. Was that true and if so, did it leave Ken bitter about the lack of quality Hollywood roles after the show ended?
It was true that Ken was typecast after the show ended and had a dearth of roles. He would walk into an audition and see the recognition of Eddie Haskell all over the casting director's face. He says that typecasting is like a Death Sentence in Hollywood, and I'm sure he was bitter about it at the time. The cruel irony of typecasting is that your "reward" for playing a character so well, is that no one can forget it.
But Eddie has always been a dichotomy in Ken Osmond's life. On the one hand, it stalled his acting career right when it should have been taking off. But at the other end of the spectrum, playing a character that enduring for so many years after the show's cancellation has opened lots of other doors for him. It was instrumental in selling the revival TV series The New Leave it to Beaver to the shows producers, and it has offered Ken opportunities he never would have had otherwise: Having dinner with astronaut Jim Lovell, hunting Quail with Stormin-Norman Schwarzkopf, and water skiing with the Cypress Gardens Water Ski team.
Can you share any accolades you've received for writing EDDIE: The life and times of America's preeminent bad boy? I've personally had numerous people tell me they thoroughly enjoyed it.
People love the book and how I've written it. I think that by writing fiction – especially crime fiction – it really helps the writer develop compelling narrative non-fiction. A lot of people remark that they love the Eddie Haskell trivia questions I have at the end of every chapter.
At an event that we did at the Torrance Public Library in Torrance, California, we had a line out the door and a packed house. Employees of the library actually took vacation days so that they could attend the event! What was most amazing to me, was that a number of people actually came up to me and thanked me for writing the book. As a writer, we are entertainers too and that felt very special to know that I had made people happy.


You're a very accomplished writer, can you share any details on some of your other writing projects?
I have started on the third book in the One Eyed Jack series, Sin Tax. In it, my main character One Eyed Jack uncovers a plot by a megalomaniac evangelist to use his temptress wife to extort other ministries into joining their religious empire.
I'm also working on a couple of screenplays, and recently started working with Tony Dow (from the show) to develop my One Eyed Jack character into a TV series.

What kind of promotion is being done for EDDIE: The life and times of America's preeminent bad boy?
We have a huge book launch that will be occurring at the Barnes and Noble in Manhattan Beach, California on October 18th. from 7-9 p.m. Besides Ken and myself, Tony Dow will be there as well as Brian Levant who was the creator of the revival series. We're going to have some Q&A with Ken and Tony about being on the show, as well as a LITB/Eddie Haskell trivia contest with prizes. We also have a number of other personal appearances, as well as some radio spots. We are pretty darn busy!
Finally, how fun was this book to write?
Writing is always an adventure, whether you are writing fiction or non-fiction. But it's also a heck of a lot of work – so you better enjoy it. This project was no different in that it was a great deal of work, but it was different in the sense that it was more painstaking in its detail. Whereas writing fiction is like taking a brush full of paint and allowing yourself the freedom to attack the canvas in any way you feel, this was more like creating a picture by using a single hair dipped into a drop of paint.
That said, it was an incredible experience and I learned so much about a variety of topics. I also got to interview and become friends with so many people I never would have had the opportunity to if it wasn't for this book: Ken Osmond, Sandy Osmond, Tony Dow, Brian Levant, Jerry Mathers and Alice Cooper.
It's been a great ride!!
Learn more about Christopher at his website and find out where he'll next be signing books.
Check out all of Christopher's writings at The Christopher J. Lynch Amazon Page
Comments
comments