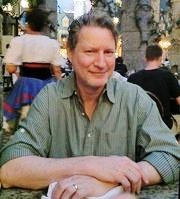 There are a lot of authors who write for children. Rarely will you find a children's writer who has an interesting background like that of author Seth Kadish. Born and raised in Brooklyn, he traveled to Hollywood to become a television scriptwriter. He successfully wrote many plays and then took a traumatic twist in his career. He entered school and earned a degree in Psychology. As life makes its twists and turns, sometimes it takes us down paths we've walked before and that's what has happened with Seth. He has ventured back into writing and his latest release Baymo is geared toward children ages 7-12. Check it out today.
.
You are originally from Canarise in Brooklyn, NY. Isn't that where the happenings in the movie Goodfellas occurred? Did you happen to know any of the guys portrayed in that movie?
Yes, Canarsie is the site of "Goodfellas." While I grew up in that era, I didn't know any of the people involved. That's probably a good thing!

When not interviewing authors like yourself, I run a pizza website called PizzaSpotz.com. So I am very interested in your favorite pizzerias, those in Brooklyn and in California.
My favorite pizza in NY were the two down my block, growing up: Del Dio and Original on Avenue L in Canarsie. Sad to say I don't have a favorite pizza place in LA.

You originally moved out to Los Angles with some spec TV scripts in the 1980s. What was your inspiration for doing so? And what were those TV scripts about?
Moving out to LA in 1979 with spec scripts . . . to pursue my dream of being a professional writer. The scripts were for "MASH" and "Taxi." Looking back on them they were pretty good. But couldn't seem to get them to the right people at the time and grew discouraged.

You received some accolades about your writing which eventually evolved into movie scripts and writing plays. How far did you go with your writing at that point in your career?
Two early 90s highlights regarding my playwriting career – the person in charge of development at the Public Theatre in NY wanted me to get together with a relatively unknown composer named Jonathan Larson to collaborate on a musical based on my play, "Wayne." It never materialized . . . but Larson did OK without me – he wrote "Rent." (and unfortunately died young). The other event that stays in my mind was being approached, at that time, by the woman who ran the Masters program in Playwriting at UCLA, who had seen one of my plays (come to think of it, was probably "Wayne") and offered me a full scholarship to be part of the program. I declined in favor of pursuing psychology.

I read on your website that you had always been interested in spirituality and personal growth. Can you share some ways in which your interest in spirituality has manifested itself over the years? And how is that spirituality manifested today in your life?
Thanks for the spiritual question. I guess I've always been a seeker. Started reading Carlos Castaneda, Jane Roberts and similar authors at around age 15 or so. This later turned into going to EST workshops (don't know how many people remember those but they were extraordinarily popular at the time) and other psychology groups as well as exploring organized religion further. Today I am most taken with the writings of Eckhart Tolle (and his key principle, diminish the ego) and pray on a regular basis.

Did your interest in personal growth take you places other than writing in the entertainment industry?
I don't think my interest in personal growth took me to other places in the entertainment industry, Brian. I would say my love for public speaking and lack of aversion to cameras did! Specifically, I was invited to be the lead therapist on "The O'Neals," a documentary series produced by the Oprah Winfrey Network a few years ago and a commentator on the award winning documentary, "Iceberg Slim." My wife and others thought it was funny – Snoop Dogg, Ice-T, Ice Cube, Quincy Jones, Chris Rock – and me!

Working with at risk youth must have been a rewarding experience. Would you consider yourself to have been an at risk youth growing up in Brooklyn? Was that a connection you had with those you worked with?
I loved working with at risk kids. One year with boys, nearly four years with girls (13-18). I identified with them strongly, though thankfully I never ended up in Juvenile Hall when I was a kid. But I was a kid who on the one hand was bright and creative, friendly, participated in school theatre and writing clubs, but at that same time was adventurous and a bit of a risk taker. Started smoking cigarettes and drinking by age 12, for example.

After working with youth, you went on to work with adult prisoners, is that correct? Where did you do most of your work with adult prisoners?
Yes. After the work with at risk youth, I ended up doing contract work at California State Prison-Los Angeles County in Lancaster, CA, a Level 4 facility. I did it half-time for 5 years, logging approximately 5,000 hours in face to face dealings with some of the toughest men you'll ever met. I enjoyed every moment of it, listening, learning, helping where I could. I only felt in danger once or twice, though the job could be dangerous. Several of my colleagues were attacked by inmates. But I had a number of inmates who felt protective towards me and I carried myself softly and gently, earning the respect (I believe) of most of the men I encountered.

So did you ever completely give up writing over all those years working as a psychologist?
I never gave up writing, though it slowed down during my psychology studies, which took nearly six years on a graduate level to complete.

What took you toward writing for children? You have a skill for it and I wonder if it is something you've been doing for a long time or just a new genre you recently tried your hand at?
After writing only for my graduate level courses for years, my focus then turned toward writing for children and young adults – though I didn't consciously realize it. As I look back on it now, Brian, it occurs to me that that was probably an outgrowth of my years working with at risk teens, combined with the freedom that writing for a younger population can bring – I do gravitate towards fantasy – and finally, perhaps a sense of wanting to find hope and optimism and human themes in the midst of the darkness of kids dealing with violence and abuse and inmates in a perpetual lockdown.

How did you come up with the idea for Baymo?
I can't tell you exactly how I came up with Baymo. I don't remember how I even came up with the character's name (a question I'm frequently asked). My guess is that my 25 years of dog owning and loving contributed to my wondering, "What would it be like truly if a dog were to turn into a man?" Not a Disney version, but a real version. He would have freedom, but what would it be like for him? What joys and problems would he face?

To what do you credit the glowing reviews youv'e received on Amazon.com? I mean what hits home for those readers?
The glowing reviews keep pouring in. I thought the book was good, but I am very, very thankful and truthfully amazed by the intensity and depth of these reviews. The thing that sticks out for me with several of these reviews are words to the effect of, "You don't talk down to your young readers." I suppose that's something I resented as a kid, and hopefully did not do in my own work with at risk youth.

Baymo right now is only available as an e-book. Will you soon be making it available on Amazon in a print version too?
I'm not sure when "Baymo" will appear as a print book. But when LadyBee Publishing makes the decision to put it in print, it will appear on their website as well as mine, www.drsethck.com.

And since you've not entirely traded psychology for children's writing, you're still in the trade of clinical psychology and over the past few years I've seen you have media credits such as working on The O'Neals on OWN, the documentary film Iceberg Slim and on Alcoholic Moms for Fox Television. How did those opportunities arise for you?
With regard to my media appearances, I was approached in each case by someone affiliated with the project who knew of my work. They were all exciting experiences. While I don't seek television or film, I'm open and interested if and when it comes my way.

Finally, please tell my readers what they have to look forward to in regards to your future children's stories. Any more Baymo adventures? Any other characters they will adore?
I have two complete books sitting on the shelf right now, Brian – deciding what to do with them. One is – I think you'll appreciate this – a YA fantasy about a Brooklyn kid (who sounds like he's right out of "Goodfellas") who ends up in a world of swords and sorcery. Sort of a "young Robert DeNiro lands in Middle Earth." It's funny, action packed, with some poignant moments. I'm also working on two other books: a quest with a very unique setting and a scary Halloween type tale set in the Canarsie of my youth.
I'm asked where do I get the time to write? I start my day at around 5:00am and write in the morning and as I can during the day and evening. Writing is my pleasure, my vacation, my passion. It's no hardship to write all the time. To the contrary, it'd be a blow to give it up.
Thanks so much for taking the time to interview me, Brian. This was a lot of fun, I must say. I really enjoyed your questions. Readers can write to me, if they'd like, through my website or directly at sethckadish@gmail.com.

Thanks for your time Seth.
.
.
Visit Seth's Facebook Page -> Link
Check out the Author Seth Kadish Website -> Link
Purchase Baymo Today -> Link
Check out Seth's book Pop Your Patterns-> Link
.
Comments
comments