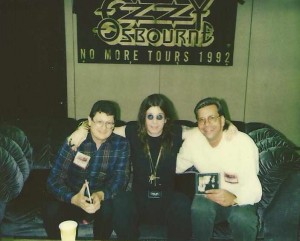 Bob Poer is a great guy. He kept me in CDs back in the early 90s when I reviewed music for several small music magazines. I first met Bob when he made sales calls to Big State Records in Dallas. I lost track of him for a few years, but am glad to have got back in touch. I love these answers. Some real funny stuff here. If you hire Bob to entertain at a wedding, don't forget to request he play, "Stanky Leg." See below for what Bob thinks about that song.
This first question will make you think back a couple years. As a child, what did you want to be when you grew up?
As a very small child, I was always fascinated with two things: music and radio. I grew up in the 50's and 60's, so you know the music I was listening to on the radio in that era: the beginnings of Rock and Roll. I would sit for hours listening to the music on the radio learning all the song title and artists. I started buying 45 RPM records with my weekly allowance of one dollar. In those days, you could buy a couple of 45's with a dollar. That's how my record collection started. First with 45's and then later, albums. When I was asked by the local radio station in the small town in Oklahoma where I grew up, to do "school news", I was thrilled. I was about 12 years old and I would do a small 5 minute "school news" segment once or twice a week for the station. Well that got me hooked for the radio business. I hung around the station in all my spare time; after school, on weekends, etc. They finally asked me if I would like to have a regular job there on the weekends for a one hour show playing "rock and roll" music. This station was very adult oriented and they just didn't play that kind of music during the week. I was probably one of the youngest radio "DJ's" in the country at that time. That worked into a regular shift on weeknights as I got older. I did everything while there; news, sports, wrote copy, etc. That is how I learned the radio business and decided to make it my career.
You received a bachelor of arts in radio broadcasting, were you ever an on-air personality?
I worked for several stations in the OKC area. I went to college at both Central State College (now named Central University Of Oklahoma in Edmond) and the University Of Oklahoma in Norman where I received my broadcasting degree. I worked at both those college stations and then for various OKC stations after I was out of college. It was my OU broadcasting class that put KGOU on the air in September of 1970 and it is still on the air today. It started as a commercial station, but now it is the PBS station for the OKC market.
I first met you when you worked in sales at CBS Records. How did you land your job there and was it your first in the music business?
I had been out of school for about 2 years, still working for some stations in the OKC area when 1 day I got a call from a friend of mine who had been a broadcasting classmate at OU. While he was at OU, he was the campus representative for CBS Records. When he graduated, he moved to Dallas and became the single records sales person at the Dallas branch. That branch had a sales rep who announced that he was going to retire soon, so they had better start looking for a replacement for him. My friend called me and told me about this sales opening. I told him I really wasn't interested in sales, I wanted to stay in broadcasting. He convinced me to at least come to Dallas and interview for the job. I said well OK, it might help me land a job in broadcasting in the DFW area. I had the interview with the sales manager and returned home really not giving it much more thought. About a week later, I get a call from the CBS sales manager telling me the job is mine if I wanted it. The offer was good, so I accepted thinking once in the DFW market I could pursue my broadcasting career. Well as they say, the rest is history. The CBS sales job just kept getting better and better. They assigned me to bigger and more important accounts in the first few years. I ended up working 30 years in the sales department for CBS/Sony Music. Never did get back to that broadcasting job, but over the years, I think I met everyone in the DFW radio and TV business. Several of them are still some of my closest friends.
How long did you work at CBS and was it all in sales?
I worked at CBS/Sony Music for 30 years; from 1973 to 2003, all in the sales department.
Of all the bands/singers you sold while at CBS, which act was your favorite?
Now this is a tough question to answer. There were so many great acts, as you know, on our labels. And over the years, I probably have met them all as they came through our market on tours, record promotions, etc. Some of my favorites and great people to know were Journey, Billy Joel, Neil Diamond, Willie Nelson, Charlie Rich, Cyndi Lauper, Chicago, Jimmie Vaughan and my favorite, Stevie Ray Vaughan. Stevie would always bring his latest album to the branch to play for us before it was released. He was a great friend to everyone that worked at the branch and we always enjoyed seeing him come by the branch. It was such a sad day at the branch when we learned of his death in the helicopter accident. It was our branch's "9/11". There wasn't a dry eye in the branch that day. It was like one of our family members had died.
Any interesting or unique stories you can share with us about your time at CBS?
There are some many stories that I can't remember them all. Some that stand out were all the conventions we had over the years. In the 70's and 80's and early 90's, we would have 2 national conventions each year. All the branches, 19 in the early years, would converge in a city for week's conventions. We would have meeting during the day and then our acts would play at dinner each evening. These conventions would take place in a big convention hotel. We would have them in Atlanta, Nashville, Toronto, Vancouver, Los Angles, Miami, Boca Raton, honolulu and we even had one in Dallas at the Fairmount Hotel. They would give out awards to all the branches for sales, promotions, etc. They were given out by our labels; Columbia, Epic, and our associated labels. There would also be distribution awards and "Branch Of The Year" awards, which we won several times. Locally, some of the unusual things we did included putting a live pig in Disc Records to promote Pink Floyd's "Animals" release. They had it in a pen in the store and it never stopped squealing. It made a big mess and they finally asked us to come take it out. I had to rent a pick up truck to pick up. I then took it out to a farmer who was glad to get him. One time we rented a large garbage truck, put Alice Cooper in it, and took him around to our accounts to promote his album "Trash". They wanted me to drive the truck, but I said "no way". Not me. We finally got one of the drivers from the company we rented it from to take him around. That was pretty bizarre!! Once when Journey was in town for a concert, they picked up all the branch personnel in their tour bus and took us to Reunion Arena for their concert that night. That was a great night. Steve Perry, Neal Schon, Steve Smith, & Ross Valory were all on the bus with us. It was a thank you from their management for our sales on their albums.
When did you begin your work with Mobile Music/PBP?
Mobile Music PBP. In March of 2003, Sony Music and BMG music merged into one company. A lot of us who worked for the branch were released from their jobs due to like positions at both companies. I was one of them. After 30 years, they didn't need me anymore so I was given a retirement package. Well I hadn't planned on retiring quite that early. I still had one daughter in college and had planned to work at least until she finished school. I had done some DJ work at both my other two daughters wedding receptions and for some friends from time to time, but never as a full time job. My wife and I decided we would go into the DJ business, test the waters and see how we do. Well, the business took off like a rocket. I had built up quite a music collection over the years, first in radio and then at CBS and Sony. My wife was good at wedding ceremony and reception coordination. I think we worked at 30 to 40 wedding receptions that year. We now average around 70 a year. Our main events are wedding receptions, but over the past years, we have performed at all types of events; birthday parties, anniversary parties, corporate events, fashion shows, etc. Any event that needs music and entertainment. We also do lighting for many events.
Can you give us a guestimate on how many parties/events you've done with Mobile Music?
I estimate probably around 500 to 600 events total. Too many to remember them all!!
For what type of events do you provide entertainment?
As mentioned, wedding receptions, birthday parties, corporate events, anniversary parties, fashion shows, wedding ceremonies, class reunions.
Can you give us a sample of your clientele?
Our clientele is mainly people getting married either for the first time or the second time!!
What are some of the strangest song requests you've had at an event or party?
We have had to play some very strange songs at some of our events. One that comes to mind is "Mule Train", Frankie Laine. We facilitate an event at our wedding receptions called "The Longest Love Dance" This is an elimination event to see what couple on the dance floor has been married the longest. We try to play "their song" for the winning couple and that is the song one couple requested. They had been married a long time for that one!! One of the strangest song requests I get from time to time is "You've Lost That Loving Feeling". Really?!?! You want that song played at a wedding reception? That was a short love affair!!
Can you share with our readers your favorite classic band or singer and your current favorite?
Some of my favorite singers from the past years would include Billy Joel, Al Green, Aretha Franklin, Bob Dylan, Beatles and Chicago. Remember, I grew up in the 60's, so these were my musical influences. Current favorites include Adele, Maroon 5, Train, Jason Mraz and Michael Buble. I am sure there are many more I'm forgetting. I really like just about anything.
If a magical force had prevented you from entering the music industry after graduating from college, what career would you have chosen?
I probably would have wanted to join a branch of the military service. Even then, I probably would have ended up in the entertainment part of it; Armed Forces Radio, USO, etc.
Finally, is there one song you absolutely refuse to play at events, or one song that turns your stomach inside out when you hear it? Don't worry, we won't tell any future clients about this song : )
Well there are several that I really hate to have to play at gigs, but the one that comes to mind is "Stanky Leg", GS Boyz. I cringe every time someone asks for it. For me, it's like fingernails on a blackboard. When it was popular, we had to play it a lot. But boy, did it get on my nerves!! There are so many better rap and hip hop songs to play. And a lot of them I like, just not that one. Got pretty tired of "Crank Dat", Soulja Boy, too.
Thanks for the great interview Bob.
Comments
comments