I received today the gracious permission from POSHGLAM, a leading fashion site, to re-post their recent interview with world famous shoe designer and visionary, Camilla Skovgaard.
The following interview was originally posted by Faith at the following link.
http://www.poshglam.com/my-interview-with-footwear-visionary-camilla-skovgaard/
Camilla Skovgaard is the brain behind some of the hottest footwear in the industry right now. The Danish-born designer is a favorite of the likes of Rihanna, Halle Berry, Princess Marie Chantal of Greece and so many more.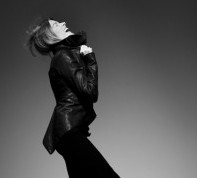 Skovgaard started on the road to her own line at first in couture in Dubai at the young age of 20, where she designed for the sheikhs' wives and daughters. After seven years there, she then moved to London to study shoe design and went on to obtain a BA in footwear design and product development from Cordwainers and then moved on to complete a MA at the Royal College of Art in London.
While studying for her MA, Skovgaard's line began to take shape and while she was still a student, Saks Fifth Avenue picked up her first collection. Talk about talent. Some of her accomplishments include: 2007 Queen Elizabeth Scholar Award for Excellence in British Craftsmanship, Swarovski Emerging Talent-Accessories at the 2009 British Fashion Awards and many more. Skovgaard collaborated with Matthew Williamson for seven seasons on the footwear for his collections (2005-2009). Her pieces are sold in over 28 countries and are sold in the world's most prestigious boutiques.
I caught up with Camilla to talk about what influences her designs and where she sees her line going in the future.
Did you always know that you wanted be a footwear designer?
Nope. Perhaps my parents did – one of my favorite items is my very first leather shoe I had as a baby/child that my mother back then had dipped in silver, complete with its wrinkles, wear marks and hole in the big toe. I grew up with that silver plated shoe sitting on a shelf near my desk – never out of sight. It's still with me in my entrance hall greeting visitors.
How do the different countries you've lived in inspire your designs?
Funny enough, it's sort of working the other way round now. I've always felt oddly uncomfortable with how I used to dress more or less according to the culture I was in, and I couldn't quite figure out why it always annoyed me, something too frivolous about it, and, needless to say, it simply wasn't 'me.' I'm a late bloomer, but I have learned to stick to what feels like 'me' now regardless of if I'm in the Middle East, Hong Kong, London or the US. Tonight is an example – I'm in Dubai this moment and just been out for dinner where everyone is wearing 'cute little dresses' common for the heat here, but I was content to be in my Rick Owens gear – complete with long sleeved leather jacket and my ankle wedge boots.
Who would you like to work with in the future?
Rick Owens.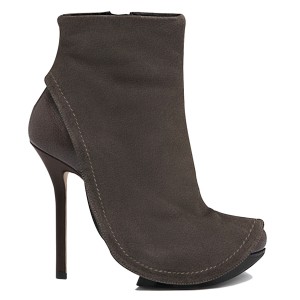 What is the inspiration for Spring 2011 and what constantly inspires you?
It's a gradual process. I elope on something I picked up on in the season before. I don't sit with a 'mood board' going – "Africa!" It's more of a feeling. We have some stud elements, blonde wood finished heels/plateaus set against leather, and some lovely 'summer witch' shoes inspired by an old Danish folklore tradition – a mid-summer night bonfire held every June 23rd in Scandinavia where witches sit on top of the first shooting into the night (in Danish called 'Sankt Hans Aften').
I'm still digesting the fact that I have now also introduced a bit more color for SS11. We have a bold turquoise shoe coming out.
Personally, I'm not a color person. If I could run a business on it, everything would be terribly stark colors and more subversive, but I love seeing the shoes sell, and I can find color attractive on other women.

What is your favorite pair of shoes that you have designed? Do you wear your own shoes on a daily basis? If not, whose?
I definitely wear mostly my own. I test and I try and I pick up things along the way that I bring with me to the next shoes I make. I recently moved houses and was forced to do a spring cleaning, and for the first time in my life I have a double closet built for just my shoes. It's glorious. I love swinging open those doors and seeing what I'm going to wear today. So, after the spring cleaning, besides my own, I kept in shoes from Rick Owens, Manolo Blahnik, and Christian Louboutin.
Congratulations on being nominated for Accessories Designer of the Year! What would it mean for you to win?
It would mean a double win for 2010! I won the ELLE Style Awards Accessory Designer of 2010 in February, which was my first professional award, so that was a great honor. I won numerous awards as a student, but it's a little different now. Do we have the equivalent to a grand slam in the fashion industry?
You know that's a good question! Not sure which is the biggest prize in the fashion land, but I think you're well on your way to being a world champion. What's some advice you would give to inspiring footwear designers?
Persistence…persistence…persistence.
Any exciting projects in the future?
Yes, I'm currently in talks with an A-list Paris fashion house, but it's too early to say anything as discussions are still going on. It's just a matter of having time for it.
Visit www.camillaskovgaard.com for more information and purchase one of my favorites, the Suede Foldover Ankle Boots (retail value $677) at www.saks.com.
We hope you've enjoyed this interview with fashion designer Camilla Skovgaard.
.
Comments
comments