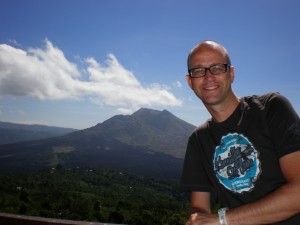 If you travel, you must already know Emiel. However, if you don't travel, you'll want to after reading this interview with a talented photographer/ blogger and experienced world traveler.  Not only does he travel the world, he does so with his children. I believe Emiel is the foremost expert on traveling with kids and he has some great advice here and on his blog. Check it out in any of the links below or by clicking here.  You can also follow him on Twitter, he's @vandenboomen. Ooops, I almost forgot to tell you, Emiel is also an all round great guy. He's Dutch and he freely gives advice about traveling with children to anyone who asks. Now onto the interview:
Did some particular event or person instill you with the love of travel and cultures?
Certainly! That person is Hiromi, originally from Kyoto, Japan. I was studying Marketing in 1990 when I got the opportunity to start writing letters (you know, letters, no email!) with pen pals from a country of my choice. I picked Hiromi because the mystic country of Japan appealed to me. We started to write about everything Dutch and Japanese, from explaining about food to National Holidays and religious celebrations. All this got me interested in Japanese culture to such an extent that after my Marketing study I went to University to study Japanese for 2 years!Hiromi and I actually did meet. After 5 years of writing letters we met in her home town Kyoto during a research trip that I was doing with fellow students. I'm not sure if she knows how much she influenced my life, but she will after reading this interview. Traveling is an essential part of my life. After my first introduction to Japan I visited between 25 and 30 countries and even all my jobs had an international scope. The Asian culture appeals to us the most. Today Hiromi lives in the USA and we still have contact now and then, mainly through Facebook.
You traveled with your wife before you had children. Did you have any favorite spots you'd recommend to others for that special couples getaway?
Special couples getaway sounds like you're looking for romantic places to visit. Well, I have to be honest here, our travels as a couple were always quite intense and absolutely nothing like the regular beach holiday. Peru, Cuba, India, Vietnam, Japan, not the countries you go to only for a relaxing time on the beach! Trying to make the most of it, we decided to travel with a group to India and Vietnam for our first far-away travels. That wasn't the best idea as we quickly decided a group was not the way we like to travel.
So we changed things around. Japan, Cuba and Peru were the countries we visited by ourselves. We loved Peru, which was also our honeymoon back in 2000! We went sand surfing, crossed the highest pass (4850m), visited the island of knitting men (!), hugged llamas and climbed our way up to Machu Picchu. It was fabulous, a stunning country and that's a country I certainly want to share here.
Our daughter was born in 2001 and our son in 2004.
Did you really take a travel hiatus after you became a parent? Did you go through any withdrawal symptoms?
The traveling absolutely stopped, but temporarily. We consciously decided not to travel with babies and toddlers. It just didn't appeal to us carrying a child around the whole day. But we did know about our future: we would go and travel the world with our kids!
Withdrawal symptoms you ask? Well, as young parents we didn't even have time to think about traveling. You have so much on your mind. But I have to be honest here, there were also some withdrawal symptoms. During the first years we rented holiday cottages in the Netherlands and although our beautiful country offers great places to explore, we were longing. Longing to get our passport and wander around in Buddhist countries or exploring Latin American habits. Kids are extremely cute when they are small, but we couldn't wait until they were old enough to travel! Maybe that sounds a bit strange, doesn't it?
We waited until our youngest son turned 4. Why? Because we wanted our children to really remember the places they visited. So in 2008 we dusted off our suitcases and backpacks and off we went to Morocco.
Link: http://www.actoftraveling.com/2010/10/go-traveling-with-kids-in-magical-morocco/
As a world traveler, you must have some favorites. Can you name your favorite:

Beach?
Koh Phangan, Thailand.
There are many beautiful beaches in Thailand for sure. And of course we have experienced only a couple of them, but Koh Phangan was really nice. We stayed at the Northern part of the island were the sea was shallow, warm and inviting. The beach was quiet and curved with palm trees and small restaurants. When I talk about it I really want to go back as quickly as possible!
Link: http://www.actoftraveling.com/2010/11/5-family-adventures-in-south-thailand-part-ii/
Mountain range?
For us Dutch people any mountain is impressive! Our country is also know as the Low Lands, it's so flat! The highest point in our country is 323 meters high….we actually call it a mountain and many foreigners (rightfully) laugh about that.
But we don't have to travel far for some real majestic scenery as we have massive mountain ranges in southern Europe. Our favorite however is the Himalaya. On my blog you can read a short story about how lucky we were to get a full and clear view of the Annapurna peaks (part of the Himalaya) in Nepal. More than 8,000 meters, what an amazing view that was.
Link: http://www.actoftraveling.com/2011/11/10-extraordinary-travel-sceneries-part-i/
American state (other than the coasts)?
You will not believe it, but I didn't travel to the States that much yet. Once I spent 2 days for a conference in a Chicago suburb, but our real American experience was very recently when we traveled with our family to New York City.
We had a blast! Our kids loved the subway network (the underground way of life), Central Park, Times Square, well, all the major highlights. But they also enjoyed our bicycle tour through Manhattan and Brooklyn (finally on a bike again….we're Dutch you know).
Link: http://www.actoftraveling.com/2011/05/new-york-city-with-kids-in-tow-and-how-to-enjoy-the-diversity/
Pizzeria?
We once stood in line for Grimaldi's in Brooklyn, but then we thought: "We are waiting for just a pizza, ridiculous." Hope I don't offend any Grimaldi fans here, sorry guys.. No one ever told us to wait in line here, we just read it in guidebooks. And that didn't feel very spontaneous, so that was the last time we took a guidebook along.
For great pizza we can recommend some nice places in our home town Deventer as well!
River?
The Chao Phraya river in Bangkok, Thailand. Why? Because that river is part of life in Bangkok (and the rest of Thailand). A city seen from the river is always a good alternative. Doesn't matter if you are in Amsterdam (with its fabulous network of canals), New York City (Hudson river) or Bangkok, from the river everything seems different, more friendly. In Bangkok the river is also a gateway to the klongs: an extensive canal network where people built houses on the water. When you pass through the klongs it sometimes feels like you pass through someone's backyard. Be prepared to be approached by other boats wanting to sell you almost everything. Kind of miniature Wal-mart on the water so to say.
Waterfall?
We have the waterfalls of Iguaçu on our bucket list. We have been to Brazil once and went to Rio de Janeiro and Belo Horizonte. That was a very special trip as you can read on my blog, but we love to return and explore other parts of the country as well. Let's see if and when we return to South-America.
Link: http://www.actoftraveling.com/2010/05/spiritual-travel-tip-belo-horizonte-brazil/
Airline?
Favorite airline? You know what, although a plane trip can be very tedious and annoying, you quickly forget about it after arrival. You step out the plane and into a new world, a world full of possible discoveries and new adventures. Why bother about that plane any longer?
If you make me choose, I pick Singapore airlines where customers and service are still priority. They really put the Asian values of respect and helpfulness into practice, offering customers solutions before they even know they have a problem.
Kid friendly destination?
Thailand No. 1!
In Thailand they know how to treat families. On the practical side, many hotels on the southern islands have rooms with connecting doors which are very convenient for parents and children, believe me!
But most importantly, Thai people love children. They show you respect because they highly value the fact that you bring your kids along. On Koh Samui island our son Alec was quite the man for the ladies at the reception desk. Every time he walked by all the ladies started calling his name and even the manager came out of her office to greet him. We, the parents, were of lesser importance….
How long were you traveling the world before you began blogging about your travels?
We have been traveling the world ever since 1995. In 2009 I started participating actively in social networks. Once a fellow blogger asked to write a story about our first family trip to Morocco. I didn't own a blog at that time, but I said yes. And it was a big success. She really encouraged me to start keep on writing travel stories and to start my own blog. So I did early 2010.
One reader recently commented on my blog that when you travel and you finally arrive at this special place, it is hard to soak it all in. You want to take pictures, may read about the history, walk around a bit but then you have to leave again. Revisiting through writing kind of  forces me to really think about the true value of the place or experience. That's the big advantage of blogging.
How did you accomplish success as a travel blogger/photographer? And how does one become successful in life in general?
There are several factors in order to become successful as a travel blogger. One is consistency. You need to write stories in a consistent way. I have found my tone of voice where I tend to write travel stories in a poetic and sometimes sentimental way. Next to that my readers value my blog because according to them it's whimsical. I try to refrain from posts that only offer a standard itinerary where I'd rather write about the true meaning of travel (why do we crave to discover, why do we travel to cities, why do we take our children along, etc). Of course I do write about places in the world that I believe are interesting to visit, but after such as story I immediately dive into a different subject like Space Travel or an interview with an American man whose ancestors originally came from my home town!
Another part of the success is engagement. You are not alone out there as a travel blogger and I have to be honest that it is very hard to stand out in the crowd. You need a good network of readers and fellow travel bloggers that share your stories. Cherish your readers, next to your tone of voice and consistency.
And how does one become successful in life? Wow, that's a big question. I guess you have to follow your heart, do what you really love to do. When I started travel blogging everybody thought I was crazy spending so much time (without any specific income from that writing). But this was what I loved to do! Maybe I will earn a bit of money in the near future, but I really don't care about that. I care about being successful as a blogger which means people appreciate my writing and "want to sink their teeth into my stories".
If you are not happy with what you are doing right now, close that door. A new door will open once you close the old one. That's the concept of life and the core essence of pursuing a successful and meaningful life.
Everyone knows the benefits you give others through your blogging. I'd like you to tell our readers what benefits you receive from blogging.
Brian, the benefits are numerous. Friends call me crazy when I tell them how much time I spend writing and engaging online with readers and fellow bloggers. From all the benefits I want to highlight the following:
Great network of fellow travelers and traveling / nomadic families.
I had no idea how many families were traveling the globe, not for just a week or two but for a year, two years or even continuously (we call them nomadic families). They homeschool their children while on the road and their stories really inspired us to travel differently. They made the brave decision to leave their safe jobs and master a travel lifestyle where the world itself acts as a teacher. We strongly believe our children learn the most from visiting different countries and encountering other cultures.
The way nomadic families travel is also a slow one. These families are not specifically drawn to a must-see touristic highlight and are certainly not pushed by a strict traveling schedule. They live a life  where they just let them embrace by the local culture and habits, until they become part of it. That's the true meaning of traveling and we are about to do the same next year.
The network is also a fabulous resource of travel knowledge. When I have a question I just post it in my social networks and I have a solid and trustworthy answers within hours!
Writing is my passion, I love to tell stories
When I was a little boy I always wanted to become a writer. I started writing stories many times, but often not more than one chapter. After one chapter the enchantment of growing up and playing with friends distracted me….
With my blog I finally managed to recall that feeling of creating stories. I am not a person that talks a lot, my stories come alive on paper. Or screen, whatever. The only issue I still need to overcome is my knowledge of the English language. My mother tongue is Dutch and although I studied a lot of English, as a writer you keep on looking for new words to express what you want to say.
Stepping out of my comfort zone
When you start sharing your personal stories online, it means you are exposing yourself. Exposing your thoughts, ideas and experiences. That is a step you need to consciously take. I still struggle sometimes when I have to decide how much of my private me I have to share online. I recently came across a quote that is so true: "Who you are is already defined by what you share online". I guess this interview is also a next step.
Since your blog is extremely popular, have you been asked to write for any travel magazines? If not, would you if agree if you were asked?
Yes, they have indeed and I'm very proud of that. I will start writing for a new online magazine soon. It's not a travel magazine, but they have a travel section and the editors like the way I approach traveling. Let me send you the link once the first publication is online.
I am always open for new challenges in travel writing. Travel magazines can certainly approach me, I'm very enthusiastic in setting up new projects. My dream is to combine traveling and writing, and yes, why not with the whole family?!
Which not so touristy destinations are you asked most about from your readers?
My home town Deventer! I got a lot of response to my post about my home town Deventer. Readers really loved it and where curious to learn more about visiting the miniture version of Amsterdam (I think I called Deventer that way once).
Link: http://www.actoftraveling.com/2011/04/my-home-town-deventer-your-next-exotic-destination/
And you know what's a great story? In my network of traveling families I recently met an American called Clark Vandeventer. Clark is 9th generation American and his ancestors orginally came from Deventer (which translates 'van Deventer' in Dutch)! I did an interview with him and he really longs to come to Deventer some day, to walk in the streets where his 9th-great-grandfather Jan van Deventer walked centuries ago.
Link: http://www.actoftraveling.com/2011/10/my-home-town-deventer-goes-usa-interview-with-clark-vandeventer/
I saw one of your blog posts in which you mention Seth Godin. Where'd you discover Seth and which of his books is your favorite?
I discovered (and met) Seth Godin in Amsterdam during a B2B Marketing conference. He is very charismatic and explains how to capture customer's attention in a sophisticated and at the same time simple way. Marketing doesn't have to be that difficult, you just have to use common sense.
I like his book "Tribes". On the internet you see the formation of tribes as barriers of geography, cost or time are being eliminated. Groups with similar interests are being shaped continuously and they are interesting target groups for marketing. These groups themselves serve niches where marketeers can use them as a vehicle to reach more people within these niches.
The tribes themselves run their own projects, they have their own rules. Build around individuals, (online) leadership however will be needed in the future. That's what Tribes is all about. In the offline world the Lonely Planet guide books were leader in the travel world. Nowadays, with travel blogs all around the net, we are looking for new ways of leadership.
Can you name a few places you haven't been where you want to take your family next?
In 2012 we will be traveling to our favorite part of the world again: Asia. As mentioned earlier, this will be a longer trip and in slow pace. We will let serendipity guide us from one place to another, maybe do some volunteering work as well.
If you like lists, here is the Top 5 of places we haven't been before and are on our bucket list:
South of India
Cambodia
Laos
West USA
Namibia
Maybe Cambodia and Laos will be part of our 2012 trip, who knows. We have plans to go to the Western USA in 2013. Hmm, that leaves Namibia for 2014 and South of India for 2015. Well, that actually looks a bit scary, making plans until 2015….The great thing about online social networks is that inspiration is just around the corner. Every time you engage with a fellow traveler you might get completely different ideas about countries or places that you want to visit.
What do you credit as the reason you've been so blessed to be able to travel around the world with your family?
Great question Brian. I think the best way to answer that one is to show you a short list of reasons that I think tell the whole story:
Curiosity for other cultures and countries.
Eagerness to discover
An 'A'  for Geography
Denying other things in order to save money for our family travels.
Traveling parents (who raised us with an international scope)
Not being afraid to travel with children (I have even participated in an Ebook called the Fear Crushing Travel Guide. It helps people to overcome fears about traveling, including traveling with small children).
Thank you so much for this interview Emiel
It has been a pleasure Brian, thank you for the opportunity. You are running a great website and interviews are indeed one of the best ways to learn about people and their stories.
Follow Emiel on Twitter
Comments
comments