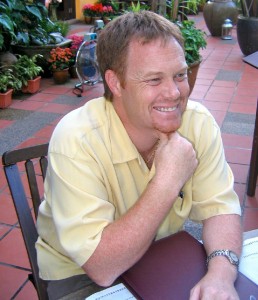 If you've ever wondered what it is like to be a missionary in Russia, you'll learn some about it by reading this interview with Russian missionary Jeff Lupinacci. I also want you to visit is outstanding blog where he talks about his ministry in the business world. It's called MarketplaceMissionary.com.
I first contacted you when I saw a news event in Russia about the closing of another TV network by the government. It seems like Freedom of the Press is not cherished by your government. How does that effect your speaking about Christ with others?
There is quite a bit of freedom for the press in Russia. This is a country that has shed most of the communist ways, though the socialist mindset is still present in the culture. However, unlike China, Russia does not try to control all access and flow of information. That means there are not any restrictions in Russia about sharing Christ. It is actually very easy to share your beliefs and because Russia is an Orthodox country, there is an interest in hearing the gospel from a Protestant perspective. The difficult part is breaking through the traditions and culture to help them truly understand the redemption of a God who loves them.
You are a product of Baylor University? Is that where you first learned about Jesus or were you a Christian before attending Baylor?
I had Christ loving, bible believing grandparents that introduced me to Jesus. My mom was a Presbyterian turned New Ager, while my father was a Catholic turned Agnostic. Needless to say, I was a bit confused growing up. But through the grace of our Savior, I came to have a personal relationship with Him at 14. When I was looking for a college, going to a Christian University was very appealing. So I selected Baylor because of the Christian environment and great academics.
Could you tell our readers more about your MarketPlace Missionary ministry?
Unlike Lot, we have an opportunity to change the culture and save Sodom…save our cities. We just need to have the courage to be more like Daniel or Joseph and change the trajectory of kingdoms. As followers of Christ, we are called to make disciples of all nations. This is a ministry of reconciling the world to Jesus and Yahweh. Most Christian missionaries are called to a different type of life. Some plant churches, while others do different forms of outreach. I know many missionaries around the world who are doing great things. Getting to know them, there is one frontier they all wish they could tap into, the business world. In fact many missionary organizations are trying to figure out the 'Business as Missions' model, which is different than tent making. Since I was in the business world, God started teaching me how I can have a positive influence and open up opportunities for the Holy Spirit to stir in the office.
The Marketplace Missionary is one who sees their primary role is to change the atmosphere of the company they work in. They bring the mind of Christ into every meeting, every decision and every interaction. They are intercessors for every employee they meet and actively look to share the love of Christ. My ministry is to be a missionary in the company I am in ,but also to help others learn how to have a greater influence in the workplace and have a positive impact for Yahweh.
Can you tell us about some of your experiences of how you've been a good example for Christ in the workplace without having to be preachy? I read about one on your website. I think it was in Japan.
I know this will sound simple, but it really does begin with relationship and seeing everyone as equal in God's eyes. I try to approach everyone I meet in a loving, caring and compassionate way. I do my best to have the mind of Christ in every interaction and ask the Holy Spirit to be with me. This way I know that I will be presenting the best image of Christ that I can. Then it is about building the relationship and getting to know people. People will see the difference in the way you approach problems, make decisions and treat others. This usually is a stark difference from a hard driving, take no prisoners business mindset. The great thing is you can be very successful while portraying Christ to those around you. So when I bring the mind of Christ into a conversation, it becomes evident that I am different than they expect.
This happened in Japan, when I met my language teacher. My second meeting with her, she asked me why I was so different. She had been teaching Japanese to Americans for a number of years, but she sensed something different about me. This opened the door to tell her about my God, about Jesus. I had a similar experience with a co-worker from Singapore who made the same statement about me being different. This opened the door for a three year conversation where she eventually gave her life to Christ and is now sharing it with her friends and family. Now in Russia, I am able again to share the love of Christ with co-workers because they see a difference in me from other expats.
As a Christian in Moscow, do you see the society as a whole being more receptive to Christ in recent years or more resentful toward Christ and his people?
This is a tough question to answer. I have been very surprised at how spiritual Russians are. The Russian Orthodox church is very strong, and it is very common to see crosses around people's neck. So it is fairly easy to have a conversation about God. I would say people are receptive to hear about Christ. However, because of years under Soviet rule and other cultural baggage, it is very difficult to get them to see the love of Christ. Because of this baggage, it can take a while before they choose to believe and have a relationship with Christ.
Where do you attend church when you're home in Moscow?
I attend an international church called the International Church Fellowship (ICF).
How is it different than ones you might find in Waco, TX?
The international church is different from most found in Waco. Mostly because they have to be multi-denominational. When you live in an international community, you attract believers from all different denominations. The church has be intentional to remove any of the differences to create a harmony of sorts. Don't think that anything is watered down, rather it is about focusing on the core beliefs and not the nuances that differentiate the denominations. The preaching has to be wholly bible based and denominational differences are minimized. My church has about 150 people in a rented out space. So we don't have a big building, we don't have a big choir or a professional level worship band. I think it might be how the first century church might have come together in community. Simple music, bible based message and a community of believers coming together to worship Yahweh.
Just by looking at your Twitter account, I found out a few things about you. Snow seems to make you quite happy. You love the Baylor Bears and you travel all over the world. Do you travel because of your job or because you want to travel?
I think snow is cool and does make me happy. Having lived in places without snow most of my life, I appreciate the different weather. As for Baylor, yes I am a fan and have been since I graduated in 1990. However, as most know, there was not a lot to get excited about with the Football and Basketball programs. It is so exciting to see what can happen with the right leadership. Of course, Baylor is a great university and it is fun to share it with others, especially my high school son. And my travels are both for my job and for fun. I have been blessed to have visited 44 different countries. Most of them through work. My current role has me traveling to 15 countries in CIS like Ukraine, Kazakhstan, Azerbaijan, Georgia, and Uzbekistan.
Where are some of the more exotic places you've traveled?
I guess the real question is what people think of as exotic. If it is a warm tropical place, then I would say Redang, Malaysia. It is a small island off the east coast of peninsular Malaysia. The beaches have baby powder sand and the ocean is crystal clear. If it is more of a jungle, then Ankor Wat, Cambodia would be the most exotic. This is where you can see the temple ruins from the movie Tomb Raider. If exotic is about safari, then the South African bush seeing lions, giraffes and zebra is really exciting.
Is there some place you would like to visit but have never done so?
I would like to go to Antarctica, to complete my bucket list of visiting all 7 continents. Other than that, I would like to visit Chili and Iceland.
If you had to pick you second favorite college football team in Texas, which would it be?
I think it would have to be the University of North Texas. Who doesn't love the mean green?
For our readers who might visit Moscow one day, where can you find the best pizza in your city? I ask this because I run a pizza themed website and I too want to know where I can find the best pizza in the world. I also want to visit Moscow. I love Russia.
Russia is not really known for pizza. In fact, Russia is not really known as a culinary destination. That said, you can find decent pizza here, besides Papa John's that is. Correa's Restaurant is very good, mostly because it is run by an ex-New Yorker who knows how to make a great pizza.
Thanks Jeff for sharing your insights on ministry and so much more.
Comments
comments