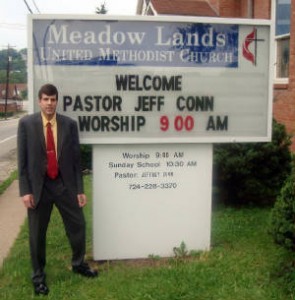 It was a pleasure interviewing Pastor Jeff from the Pittsburgh, PA area. He was one of two Methodist pastors who recently agreed to be interviewed for our site. I learned a lot from Pastor Jeff's answers and a lot about Pittsburgh too. I still can't wait to visit Pittsburgh. Hopefully, Pastor Jeff will treat me to a cup of coffee if I ever get up to one of my favorite cities ever. Hope you enjoy this interview.
To start things off, did you want to be a pastor even when you were a boy?
No. I went to church a lot and I always felt comfortable there. I was an acolyte so I got to see the pastor before service and I used to wonder what it was like to be a pastor. I just never thought I would be one.
What was church like for you growing up?
It was a safe, quiet, mysterious place. I often got "lost" in the worship service because some of the hymns with refrains confused me. I didn't know what verse i was supposed to be on and I didn't know anything about reading music so I didn't understand the rhythms and tempos. I remember none of the sermons as a kid but by the time I got to be in my late teens I was paying attention. Church for me was the place I went for Vacation Bble School, Sunday School, Sunday worship, Cub Scouts and Explorer Scouts. It was also the place where people voted in elections.
Do you think church has changed at all over the years?
I know that church has changed mainly because of my reading about various doctrines. For example, women pastors became full members of the annual conference in 1956 in Methodism. African Americans became members of the same annual conferences as European Americans in 1968. I was too young to be aware of this and I was a Lutheran until I was 14. I personally remember much larger crowds of people in worship when I was a kid; this was in the 1970's and 80's. In many ways, the mainline denominations have remained tied to traditional styles of buildings and worship so superficially, things look much like they would have 100 years ago.
The American Church Project has estimated that 83% of Americans do not attend church. Why do think the stats are so high?
I think that the worldview of most people in western nations has changed enough that the traditional answers to the big questions no longer satisfy. For example, evolution is universally taught in science and things like computers and genetics research and the space program and so many others have taught people that the universe operates by natural laws and miracles seem not to occur much if at all. God is becoming less and less real to so many people. Atheists and agnostics have become open in their doubts about traditional beliefs and many people know people with other religions well enough that they can't just write them off as unbelievers or lost people who are bound for hell. That is probably why mass evangelism no longer seems to work in the US.
Also, I tend to think that the incredibly slow pace of change in the church as compared to the culture has put the church at a disadvantage in reaching younger generations. It was one thing for our grandparents to sing most of their  hymns from the late 18 and early 1900's but each year that music sounds stranger and less appealing to younger ears. The fact that most churches still lack power point and decent sound systems or that they rely more on organs than praise bands makes it harder to make younger people feel at home when they come through the church doors.
I think the single biggest factor in driving the resistance to change in te church may be the King James Bible. Most churches don't use it anymore but its archaic language dating back to 1611 was the dominant form of religious language until well into the 1900's. That is why so many hymns use words like thee and thine even though no one has spoken that way for centuries. God was seen as requiring a specialized and obsolete form of language and if it isn't taught to people when they're young, they never really get the hang of it. This has changed quite a bit, except for the Lord's Prayer which uses King James wording mostly, but the mainline church has been struggling to get out of the starting gate while newer denominations have completed several laps already.
You pastor churches in Meadow Lands, Fawcett and Canonsburg. How did this arrangement happen?
I was appointed by my bishop, Thomas J. Bickerton of Western PA Annual Conference to a two point charge as we call them, Meadow Lands/Fawcett in 2009. In 2010, Canonsburg First was added and it is now a three point charge. That means that the three churches share me as their pastor but everything they do is still separate: worship, committee meetings, buildings, etc.
Time wise, how does pastoring three churches work?
I start at Canonsburg on Sunday morning at 8 am. Their worship is contemporary with a praise band and power point for the lyrics and prayers. The service runs till 9 but I leave at about 8:40 after I've preached my sermon. Then I go to Meadow Lands for their 9 am traditional service with organ, piano and choir. I stay until 9:45 and leave after I've preached my sermon. I then return to Canonsburg for their 10 am traditional service. I arrive at about 10:15 ans stay till then end at 11 am and greet people after the service. I then go on to Fawcett for their 11:15 am traditional service. I arrive at about 11:30 and stay till the end at 12:15 and greet people afterwards.
I have Bible study at all three churches on separate days or time. I sing in 2 choir at Meadow Lands and Canonsburg and I have committee meetings on separate days at each church. I visit people during the afternoons in hospitals, homes and nursing homes.
What does a pastor like yourself do to stay spiritually strong?
I read a lot, think a lot and pray a lot. I read the Bible to put together my sermons and I also read through the Bible slowly over the course of a couple years. I try to learn new things about science, history, theology, other religions and incorporate them into my sermons and Bible studies. I am in a book study with other pastors twice a month for 9 months out of the year. We discuss books we read ad churches we pastor and act as a sounding board and pray for each other.
Are there any good books you can recommend our readers about growing spiritually stronger or about the spiritual disciplines?
For me, the faith has a strong intellectual foundation so I always look for tools to help me learn and understand my faith and the world. I highly recommend study Bibles and it can be helpful to use a different translation of the Bible every time you read through it. I also recommend websites like religioustolerance.org, Beliefnet.com and even wikipedia as a great beginning source for any kind of religious question you may have. If I was curious about the history of the phrase "son of man," for example, I would type it into wikipedia and go from there.
I understand that each church has its own personality. Can you describe any differences or unique features in the churches where you pastor?
Fawcett is my smallest congregation and they are the oldest. They are almost 200 years old and were actually in existence when Francis Asbury, John Wesley's right hand man, was spreading Methodism in America in the late 1700's and early 1880's. He preached at Fawcett before they had a building in 1793. They celebrate their anniversary every year and it is like a family reunion. They are very close knit and very self reliant. They are probably the oldest in age of members.
Meadow Lands is the middle child in size and the youngest at almost 110 years old. They are on a main street and yet they are next to a horse farm so they straddle the line between rural and small town. They are blended in terms of worship music and architecture and they are in the middle in terms of self reliance and needing strong pastoral leadership. They are casual and kid oriented.
Canonsburg First is almost 170 years old and they are the largest of the three. They are in their second building in the same location in Canonsburg and they are the most traditional in terms of architecture and music at their 10 am service. They have a wonderful pipe organ and they also have a praise band with drums, keyboard and guitars downstairs in the social hall. Because they have 2 worship services they are the most complex in leadership and communication needs.
You attended Pittsburgh Theological Seminary. The school has so many good professors, did you have any favorites?
I appreciated all of them in different ways but the ones who stood out for me are Dale Allison, John Burgess, Andrew Purves and Charles Partee.
You live near Pittsburgh, one of my favorite cities in the world I've never visited. What are some fun things to do now in Pittsburgh and what kinds of fun things did you do when visiting Pittsburgh as a child?
As a kid my dad was a huge sports fan and still is so he took my brother and I to baseball and hockey games at the old Three Rivers stadium and Civic Arena. I went to the Pittsburgh Zoo, Carnegie Museums, Buhl Planetarium, West View and Kennywood Parks. I used to take the bus downtown and meet my grandmother for dinner. We ate at the Top of the Triangle when it was in the US Steel Building. I also took swimming lessons at the YWCA. Pittsburgh is loaded with art and music and sports.
Now I still visit the Carnegie Museums and Zoo but also the Warhol, Science Center, Heinz History Center, and Fifth Avenue Galleries. I visit Eide's because I collect action figures and I look forward to the Three Rivers Arts Festival every year although I liked it better when there were paintings outside and sculptures in the PPG Building. I have yet to take a Duckie Tour which is type of amphibious vehicle that travels the streets and then takes to the river for a sightseeing tour of Pittsburgh.
In the greater western PA area there are many historical sights that I have visited . I also love to visit the Hindutemples around the Monroeville area of Pittsburgh.
I live in Texas where an inch of snow can cause a church to cancel services. Has snow ever cancelled a worship service at one of the churches you pastor?
Snow, no, but we had to cancel 2 Sundays last year because of a coating of ice on the parking lots.
Finally, if you could no longer work in ministry, what would you choose to do?
I hope I never have to find out but I would probably work for some kind of social advocacy organization. I am a believer in equal rights for gays and lesbians.
Comments
comments