Joann Deutch, author and a Studio City Historian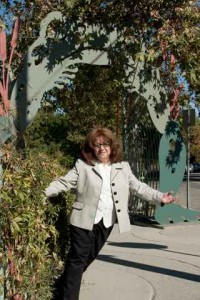 If you're a fan of the movie and television industry or a student of history, you will love the new book Studio City: A Mile of Style by Joann Deutch. This is a book built upon history and pre-history. One might think a book about Studio City dates back to the early 1940s or 1950s but some of the research included here goes back over 2000 years. If you live in Los Angeles or Studio City specifically, you have to read this book. You will learn the stories behind the names of the streets you drive down each day. You will learn about old studios and larndmarks from days gone by. A place you may live or buy fast food from might just be built upon an old section of a studio back lot. I want to thank Ms. Deutch so much for the time she spent answering my interview questions and thank her a bit more for crafting an outstanding book that this non-Studio City resident couldn't put down.
Now, onto the interview with author Joann Deutch.
Joann, please tell our readers a little bit about yourself and why you felt qualified to write this book?
As a lawyer for 30 years, I regularly did research. Digging up answers, often involving unique fact patterns was at the bread and butter of my legal practice. Having started my career in Washington DC with the Library of Congress at my beck and call, I loved books. I love finding answers, and facts. Often as part of that that journey I came across information that I just found interesting. Sometimes it was hard to stay the course. As a member of the Studio City Chamber of Commerce Board of Directors, it was always a question "What made Studio City such a special place?" As I became involved in public service, I could just feel a sense of pride and dedication from local activist. My research gave me some insight which I share in the Introduction to my book.
You've done a lot of research on the Studio City area, some of it going back 2500 years. Was that type of research simply necessary before going to modern times or was it something you enjoyed doing?
The content of the book was an evolutionary process. Going back to pre-history. I did not grow up in California , so that local history was news to me. As I learned about the role of Spanish missions, I wanted to know more, so I sought to go back as far as I could. I have to admit that the State Archivist in Sacramento were wonderful. They sent me copies of original grants, records of public hearings, and maps from which I could corroborate my early information. I also did research at the Workman collection t the San Fernando Mission. I speak Italian, so I could understand much of the original Spanish documents. The collection also contained a lot of translated materials. The missionaries were the original documentarians of the native languages and customs, written in Spanish phonemes or native languages. It just has to pique anyone's curiosity.
Studio City: A Mile of Style by author Joann Deutch is a great page turner for anyone interested in history or the movie and television industry. The book is available on Amazon.com.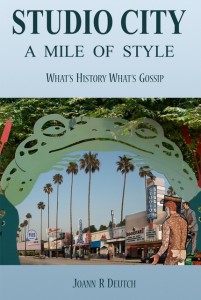 If you enjoyed it, where did you love for times past come from?
I am first generation American. My family took the time to instill in me and my generation appreciation for Italian history and art. I have always loved to travel. My move to Los Angeles was like a new adventure just waiting to be discovered. I always joke that there was no Greek or Latin pediment over a church or building, my mother could and would not translate for me, whether or not I wanted to hear it at the time. This made me open to looking for clues in local culture and art.
How many years were you researching Studio City and land it was founded upon? Just from reading it, the sense I get is it took quite a while.
The was on the drawing board for about 5 years. I worked on it in fits and starts. I would get stuck. I didn't know the facts, and often couldn't fit the disparate puzzle pieces together until I had come across related facts. For example. Laurel Cnayon was originally naes Pacoima Ave. When I furst came across early references, I did not understand that the references were to Studio City . Then about 2 years ago I decided to make a final push.
Everyone in Studio City drives down Cahuenga Blvd , but little do they know about the real history behind the name and place. Can you share some about the original Cahuenga area and why historian Horace Bell said more history happened there than anywhere else in Los Angeles ?
I have a chapter in the book dedicated to the various permutations of the name Cahuenga. Its earliest story, of course, is pre-history, leaving us to oral history. I felt I had to corroborate the stories. That's one of the reasons I toyed with a fact or fiction subtitle for the book. I have asked my readers to get back in touch with me with information they have about this topic, as well as other open inquiries.
Horace Bell was talking about all the history that Cahuenga pass saw. The Tongva villages, Tiburco Vasquez' exploits, a camel cavanaries, the stagecoaches, the battles for freedom and independence, the move over the hill of the film industry ( after Horace Bell's days).. all through the Cahuenga Pass.
How active is preservation in Studio City? Are there more people who want progress as seen in building new offices, apartments, etc? Ore are there more folks who want it to stay the same as it is today? What is currently the oldest building in Studio City?

Studio City has taken several stabs at creating historical preservation, and been mostly thwarted by the cavalier attitude in the 50s were there was a craze for modern everything. Event the Campo de Cahuenga is a replica. There are some home s dating back to before the turn of the 10th century in Colfax Meadows. I am actually on the hunt for a confirmation of a house on Valleyheart to determine if it was built by the Davis family in the 1880s.
You've mentioned that Studio City is like a west coast version of New York 's Greenwich Village . Do visitors to Studio City from New York often agree with that description?
New Yorkers like to live in The Village are of Studio City where you can walk to stores, or the Farmers Market. Most of Los Angels is too suburban to do that. The Greenwich Village is a reference to the art and music scene of the 50s, 60 and 70s that was prevalent in throughout Laurel Canyon between Ventura and Sunset.
Was there one key year for Studio City becoming what it is today? What I mean is, when did the "studio" in Studio City become a reality?
That came with Mack Sennett as he moved his film studio to the area with the expectation of centralizing the movie industry through the creation of the Central Motion Picture District. This was in the end of 1927.
Learning about Andrei Shakarov Square in Studio City was most interesting. Can you tell our readers more about that spot in Studio City , it's significance and why it's named after Adrei Shakarov?
It's name came about through the efforts of then City Councilmember Joel Wachs. He submitted a motion for the dedication of the square. Shakarov was a Nobel Prize winning Russian who spoke out against Mother Russia in support of intellectual freedoms for which he was banished. On any given Friday night when you drive by the intersections of Laurel Canyon and Ventura Boulevard you will see people on the corners holding banners, protesting or supporting current hot button issues, or old issues which some people feel passionate enough about such that they show up to advocate for democratic principles every week.
What's the future of Studio City Golf & Tennis? Will it be torn down and replaced with condos?
The fate of the golf course is still in contention even after 10 + years of debate. The owners want to "wait it out" and maximize their profits from a sale of one of the few remaining large lots of land. The most recent questionnaire even asks if the respondents think Studio City had enough Senior housing. A Sunrise Assisted Living center was built across the street from the golf and tennis. Locals have been very active in searching for public dollars to fund the purchase the property, unsuccessfully to date. They are exploring the creation of passive open space, accessible to the public.
Have the people who own the original Brady Bunch house expressed any displeasure with you for pointing out in your book on what street the house is located?
I thought about not listing it, but quick research has put the exact location at people's fingertips through the internet. I thought the note about not being pesky look-i-loos was a compromise to their privacy. As a rule I tries to protect people's privacy whenever it seemed appropriate.
Is the Little Brown Church on Coldwater Canyon Avenue really have its doors open all the time? If I drive through at 3:00 a.m. on a Tuesday morning, can I stop in and say a prayer?
Yes the doors may be closed but they are never locked. It is a special intimate place that lends itself to quiet medication ad reflection.
You've enticed me to live in Studio City if I ever get the opportunity to move to southern California ? The book describes some very expensive condos, but are there also places where the normal not so famous or rich people can live? Is there any of the population who are lower-middle class working types?
Studio City is generally expensive, but not compared to Beverly hills and other areas to the west. In Los Angels, the price of housing gets more expensive as you move toward the beach. There are small older homes in the flatlands that are under $1M. As you move into the hills, on the south side of Mulholland just outside of Studio City there are some older small homes which used to be summer houses, but have been refurbished. Those are around $600,000, which for LA is affordable.
Where can one get the best hamburger and the best pizza in Studio City?
Hamburger, Umami for sure. Pizza? Crave.
Finally, do you think Studio City will ever secede from Los Angeles? Why or why not?
Funny I was just thinking about this. From a practical perspective, with CBS Studio Center in town, there is a large enough tax base to justify Studio City as a small separate city, like West Hollywood or Beverly Hills. There would need to be some bean counting to be sure what the math is, but lots of locals would be happy to be free from the red tape and confusion that goes with a huge diverse city such as Los Angles.
Learn More about Joann and Her Book
.
Visit Joann's website for Studio City: Mile of Style Click Here.
Purchase Studio City: Mile of Style by Joann Deutch here

.
Comments
comments