If you love great songwriting, a mesmerizing voice, true beauty and a heart focused outward instead of on self, you are going to be amazed by Ashley Sofia.
" You can take David Hume. You can have Immanuel Kant. Your broken old age philosophies are something I don't need…something I don't want." – Just Don't Know
Those lines are a splendid example of the amazing lyrics songwriter Ashley Sofia has penned over the past few years. She's got more. Oh wow! Way more! Never seeing her perform live (something I hope to remedy in the near future), songs like "Shut Up and Plug Me In," and "Summer Dress" exude nothing but bustling energy which is of course, accompanied by amazing melodies. The first time I heard Ashley sing, I was sitting in a Starbucks in Ft. Collins, Colorado. A few tweets later and she had agreed to do an interview.
Before reading her answers to my simple questions, you must go visit her website and have her music playing softly in the background while you read. By doing so, you'll get a real feel for Ashley and the music that is her life.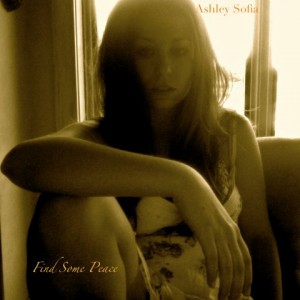 As a child, what was the soundtrack of your life like?
My musical tastes have varied quite a bit over the years. My earliest memories were of Ray Charles. I remember singing the lyrics to Georgia before I even knew what the words were about. In High School I really got into 60's and 70's folk rock. I listened to Neil Young, Crosby Stills and Nash, James Taylor, Simon and Garfunkel, Jim Croce, and The Beatles albums till I hated them. I'd come back to them later and fall in love all over again. I think the music from my parents' generation has had the biggest impact on my music. I loved that fresh folk sound, combined with powerful lyrics with a real message. I think that's what I try to be about. I always remember my parents playing good music- Van Morrison, Carole King, Willie Nelson, and lots of Nat King Cole. Oh, and the Eagles! So catchy. Joni Mitchell is my ultimate idol, though; the musician and the sound that I love the most.
When did you first pick up a guitar?
The first time I picked up a guitar I was eleven years old. I had grown up watching my father play and sing. He was such an inspiration- I wanted to be just like him. He showed me every chord he knew how to play, taught me how to strum. He gave me his old Martin guitar for my birthday and the rest is history. I can't thank him enough for his patience with me during those initial days. I owe all of this to him.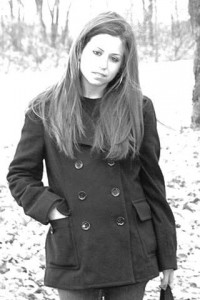 What instruments are you proficient at playing and what would you like to learn next?
My parents made sure I was constantly involved in the arts and music. I grew up taking piano lessons which I never really took full advantage of. In other words, I never really practiced. I played the alto clarinet in high school. I took my guitar playing very seriously, even when I was eleven, but never once have I taken a lesson. I also dabble with the harmonica but I'm not very good. I think it would be really, really cool to learn the Sitar. I think the sitar is probably one of the coolest sounds I've ever heard.
After hearing your music, I want to know why you aren't a superstar yet?  : )   
As far as not being a superstar… I actually only just graduated from college a few months ago, so for the past four years I've been really busy being just a regular kid and working on my B.A. I'm interested in a music career that could elevate me to a position where I could be philanthropic, and help people in need. I think my potential fame could be a catalyst for great things, much bigger things than just Ashley Sofia. I would like to help people on a large scale, more than anything else. If my words change people's minds, or brighten just a single person's day I find that too, to be extremely rewarding. If I ever find myself at the status of a bona fide "superstar" I would be more of a Joan Baez than a Britney Spears for sure.
I read recently that you had signed a songwriting deal? How did that come about and which publisher did you sign with?
This past May I was offered a publishing deal. Essentially I would have been selling my skills as a songwriter for pay, but the more I thought about it, the less appealing it sounded. I'm very attached to my songs- they aren't just passing thoughts or impulsive sounds they're a piece of me and I'm not quite ready to sell them. So for now, until another opportunity arises I'm working independently.
You sing internationally and have your music playing in Pakistan. Have you performed overseas anywhere else?
Last winter I actually flew to England and performed in a few venues over there! It was really exciting to be playing out and well received in another country. It makes it all just a little more real. They paid me in pints of Guinness at one gig.
Are there any contemporary singers/songwriters you enjoy listening to today?
I really don't listen to the radio much, but there are plenty of current singer songwriters that I absolutely adore. I'm obsessed with Brandi Carlile. I like Ray Lamontagne, and Mat Kearney. I also love Bon Iver, Ryan Adams, and Damien Rice. I've been closely following Peter Mulvey for the past few years. He is probably the best guitarist around, definitely the most unique, and a great lyricist. For his last tour- he went totally green and biked to all of his gigs! If you haven't heard of him, look him up. He changed my mind about a lot of things.

Your lyrics are stunning. Where does your inspiration come from, especially on a song like "Jilly." Was that a situation you heard about, thought up or experienced personally?
My lyrical inspiration comes from anything, really. It usually starts with a single emotion- a feeling in my stomach, head or heart and I strum incessantly till I find a chord that matches the mood. Sad songs have lots of minor chords, but I'm really drawn to the very basic C, G, and A minor chords. I studied English in college and have written poetry ever since I was little so I'm constantly describing things in my mind. It's really difficult to write something first and put it to music later, though. So when I sit down to write a song I always have my guitar in hand, and a melody worked out before I've even written a word. Only once has it worked the other way.
Jilly is a really interesting song that I get asked about a lot. Jilly is a portrait of my generation- it's a portrait of kids raised with cellphones and facebook that unfortunately aren't always the nicest to their parents. What makes me saddest about humanity is our lack of consideration or gratitude. The song is more about perspective than anything- if we're not careful it could all be gone in an instant. People think Jilly is a real girl because the storyline is so powerful and tangible but it isn't about any one in particular- I think there's a little bit of Jilly in all of us.
You've written over 60 songs. How long does it take you to write a typical Ashley Sofia song?
I'm actually an incredibly efficient writer. The average song takes me about an hour to form the basic melody, chorus, and most of the lyrics. The bridge and outtro may happen another day. I never spend too long working because you burn out after a while, never more than an hour if it isn't working. Sometimes I'll have a creative streak, like yesterday, I completed three songs. On days like that I may play for 5 or 6 hours straight. Of course, I have those taxing songs that have taken me sometimes 6 months or maybe even a year to get right. Shut Up and Plug Me In is a really good example. I wrote and rewrote that song maybe half a dozen times with different lyrics, and then I left it alone for a few months. I came back to it and restructured the whole thing. I wrote one song called Ten Years Time that I started my Freshman year of college and I finished it just before I graduated four three years later. Every song has its own process, but I guess overall most of them come together very quickly.
What song of yours came to you in a flash of inspiration and was completed in mere minutes?
This one song I wrote, Let's Forget, came to me in literally minutes- fully formed with tons of chord changes. I felt like I couldn't possibly have wrote it. To this day it doesn't feel like an Ashley Sofia song, yet it's easily one of my favorites. I totally lucked out. I also wrote a kind of country tune after a really bad experience driving by myself from the Adirondacks out to Montauk, Long Island. I wrote it in my hotel in maybe five minutes and it's been really well received. It's strange that time spent doesn't necessarily determine quality. It's very counter intuitive.
Knowing that lyrics can come to you anywhere, anytime, I'd still like to know if you have a favorite spot to write lyrics?
I have written most of my songs in my home in the Adirondacks. I've written my favorite songs looking out the window. I don't know why but the visual of this one mountain range in my backyard paired with guitar strumming I guess just puts me in this really relaxed, meditative state. I wrote Pull Me Up, and Rain looking at that view.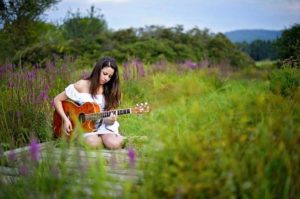 To get an idea of things, places, feelings that may inspire an artist such as yourself, could you give us a few of your favorites? Here they are:
Favorite season?
Fall. Definitely. I think.
Lakes, rivers, streams or oceans?
Ocean.
Coffee or tea?
Tea.
Concrete and glass  or grassy field?
Grassy Field X 1000
Favorite color?
I never really knew my favorite color, I suppose it changes all the time. Lately I've noticed I've been wearing a lot of blue jewelry and blue clothing so right now I think it might be Blue.
Jesus? Mohammed? Or Buddha?
Jesus or Buddha. I was baptized a Christian but I read the Dhammapada frequently. I respect Jesus more as person than Buddha though, I love that he would sit and eat with anyone.
Favorite type of falling water? Rain? Snow? Hail? Fog? Mist?
I love both Rain and Snow. I don't think I could pick one!
Favorite books?
Franny and Zooey, Atlas Shrugged, For Whom the Bell May Toll, To Kill A Mockingbird, The Old Man and The Sea, The Great Gatsby, The Life of Pi, The House of The Spirits, I know Why the Caged Bird Sings, The Count of Monte Cristo, Ariel, The Illuminated Rumi. I love reading poetry, perhaps more than even literature. I love ee cummings, William Carlos Williams, and Robert Frost.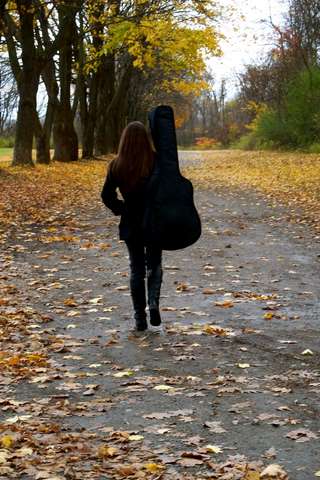 Cats or dogs?
Dogs
Pizza or Burgers?
Pizza
Favorite number?
I think 11 is a nice numeral.
Finally, there's something I've wanted to ask since I first saw you on Twitter. Is Ashley Sofia your real name? It seems too perfect. : )
Ashley Sofia is definitely not my real name. Most artists don't use their real names, and I couldn't either. My last name Polihronakis, very Greek and very long, doesn't quite roll off the tongue. Sofia just came to me one day and it has caught on quite nicely.
Thanks Ashley. You're awesome for letting me have this interview. Promise you'll let me do another in a few months. I expect a lot of your career over the upcoming months.  You're going far! 
I can't thank you enough for this opportunity and I would love to do another interview in the future.
Now everyone, go visit Ashley at her facebook page and over at her website AshleySofia.com.
Comments
comments