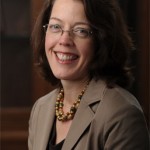 Notre Dame Law Professor – Mary Ellen O'Connell
Professor O'Connell is an outspoken opponent of America's use of drone missile attacks in Pakistan. Professor O'Donnell is a strong proponent of international law and is the Robert and Marion Short Professor of Law at Notre Dame.
She was interviewed by Rob Grace at Law and Security Strategy, a part of the Foreign Policy Blog Network.

More Interviews Coming Soon