West Soward – CFO Preferred Pump Inc.

West Soward is an accounting/financial pro and currently works as CFO of Preferred Pump & Equipment, L.P. They are the leading wholesale distributor of domestic water system products in the United States.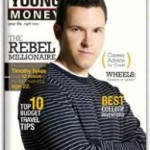 Timothy Skyes – Stock Trader

He turned $12,415 in bar mitzvah money into $1.65 million by trading stocks. Timothy then began and folded his own hedge fund and wrote a book about his experiences.
.
.

Milan Pintar – Founder of HolidayNova.com.
Milan Pintar was born high in the mountains of Croatia, but has lived most his life as an Aussie. Milan has begun Holiday Nova, a travel network that provides travelers the cheapest price found online.

.