Church Planter Brandon Hatmaker

Brandon is the Lead Pastor of Austin New Church, a missional church focused on serving the under-resourced in Austin Texas. He is Co-Founder of Restore Austin which serves as a conduit for volunteerism in Austin by connecting the church with Austin based non-profits that serve Austin and the world. Brandon is also the Director of Development for "Missio Local", overseeing the local expression of Missio's effort to serve the missional movement. And he currently serves as the Missional Director for the newly formed River Conference of the FMC.
.

Interview with Pastor Jeff Conn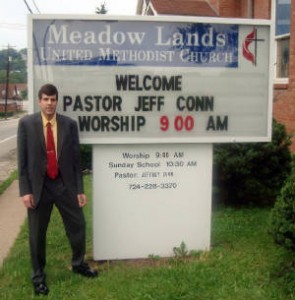 Pastor Jeff is the pastor of three Methodist churches in the Pittsburgh, PA area. He answers questions on church, Pittsburgh, spirituality and more. I was blown away by his honest answers and insights into the church and more. I now know what I'm going to do when I eventually visit Pittsburgh. I'm going to take a Duckie ride. You'll have to read the interview to find out what that is all about.
.

Interview with Pastor Larry Burton Pastor Larry Burton knows what it takes to pastor a church in a small town. If you're a new pastor or old, you'll gain great insights into the work of a pastor by reading this interview in which Larry speaks about spirituality, church attendance and the problem of pastors leaving ministry. Larry tackles the big subjects here.