Looking for a particular author? You can browse this and the following pages to find your favorite. They are listed alphabetically. Or you can type in the last name in the search box you find to the right and above.
Thanks,
Brian Humek
Author Interviews
The Anjali Bannerjee Interview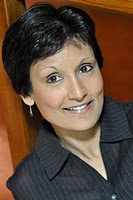 Anjali Bannerjee has been writing for years. Anjali has successfully published novels for both adults and young adults. Her YA novel Maya Running was hailed by many as brilliant and now she has a brand new book, Hunting Jasmine, which is jumping off the shelves into the hands of readers who love the stories she weaves.
Anjali's other books include Imaginary Men, Invisible Lies, Seaglass Summer and Looking for Bapu.
.
.
Check out this interesting interview with author Pam Calvert. Pam is the author of the best selling picture book Princess Peepers. Your daughters will love this fantastic book, especially if they wear glasses.
Here's what people are saying about Princess Peepers:
"…rollicking good fun…the ironic denoument is bound to please princess fans and their practical parents alike." –Kirkus Reviews, Aug. 1, 2008
"Princess Peepers will circulate well and bring laughs during storytime."–School Library Journal, Oct. 1, 2008
"A sure hit with fans of Fancy Nancy and Pinkalicious." –Children's Literature
"…the story feels fresh throughout—no easy feat for a princess book." –Horn Book Guide

Check out this great interview with picture book author Jill Esbaum. Jill has authored many books including, Stink Soup, To the Big Top, Ste-e-e-e-eamboat A-Comin'! publlished by Farrar, Straus & Giroux, Estelle Takes a Bath from Henry Holt and Stanza from Harcourt.
She also recently had three books published by National Geographic Kids. Their titles are Seed, Sprout, Pumpkin, Pie, Apples for Everyone, Everything Spring.
Your kids will really enjoy Jill's books and you love her interview. Most interesting of all is whether or not she would prefer the Chicago Cubs winning the World Series or one of her books receiving the Cadlecott Award for best picture book.
.
Picture Book Author Tammi Sauer
Tammi Sauer had her first book, Cowboy Camp, published in 2005. She's been on a book selling tear ever since. Her next two books were the hilarious Chicken Dance (illustrated by Dan Sanat) and the recently released Mostly Monsterly.
Check out what Tammi says about revisions, fan mail, humor and her close brush with Swine Flu. I thought she was joking about the Swine Flu incident and had to email her back just to ask. She confirmed it was true. Read the interview and heed Tammi's warning about being prepared for anything.
.
Picture Book Author Jody Jensen Shaffer
Jody is an outstanding writer and person. She has a zest for life, a passion for kids and writing and a very positive attitude. All that, and what Jody calls, "A willingness to receive feedback and revise," is certain to take her a long way in the publishing world.
Check out this interview to see what Jody has to say about the benefits of magazine writing, Verla Kay, the attributes needed to be a successful writer and more.
.
It is safe to say that Tamara gets most of her writing done between November and April. Her family runs a campground in Maine the rest of the year. They play host to over 130 families every weekend. Practically nothing in this world could be so time consuming.
Praise God Tamara actually could take time to do this interview. Finding the time to do so was a minor miracle to say the least.
Now please take some time out of your schedule to check out Tamara's story. It's a good one.