I am pleased to publish an interview with Permanent Ability frontman Brian Lanese. Permanent Ability is definitely the best unsigned funk/rock band in Los Angeles. After listening to each of their new songs, I can guarantee that "unsigned" is an adjective that won't be associated with this band for much longer.
Below is a part of their "about the band" page from their website. If you haven't yet caught Permanent Ability live in concert, don't miss their next electrifying show. You'll come away from the venue a Permanent Ability fan and if you're an A&R rep, you may come away with a new band for your roster.
Permanent Ability maintains a media value that is incomparable to the dime-a-dozen cliché bands found in Los Angeles. Backed by legendary producer Jim Wirt, Permanent Ability's name is a testament to their capacity within the music industry.
The band was launched in 2008 by Brian Lanese. Brian is a three time Emmy Award Winner. His long list of accomplishments are sought after by many A-list celebrities. Lanese's bloodline notes a relation to Mark Twain and his writing mirrors that of his famous ancestor.
Permanent Ability's other members aren't outshined by Lanese. The bassist, Steve "Dino" Andino was a member of Tourniquet. Guitarist Nick Gordon and drummer Gary Rinaldi each possess their own signature sound too. The four members of Permanent Ability define an unblemished sound that has quickly become a fan, and media, favorite!
The bands energy, sound, stage presence, and ever-growing fan base even caught the attention of George Clinton and Parliament Funkadelic bassist Lige Curry. With their sophomore disc gartering industry notoriety, the bands collection of work is a tribute to their musical influences ranging from Led Zeppelin to LL Cool J.
From the Womb to Hollywood was the bands first disc / ep in 2008. Bring It On! debuted in 2010. The debut helped Permanent Ability to achieve status as "Best Band of the Week" by RockItOutBlog.com. Bring It On! was produced by Jim Wirt. Wirts other clients include No Doubt, Incubus, Hoobastank, Fiona Apple, and a list of other pillars within in the entertainment community.
Now onto the Permanent Ability interview: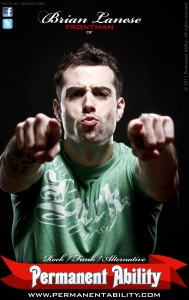 While doing some research for this interview, I found Permanent Ability all over the web. You guys seem to be masters of publicity. Do you have your own PR machine or is all this done by you and the band?
Thanks. We've been rather fortunate. I think if you Google Permanent Ability we are incrementally pages deep. We work hard and consistently dig and dig to get our name, and music out in the public eye, trying to gain more awareness and visibility. We do though have a very grass roots approach to the bands PR. Especially here in Los Angeles where companies set unrealistic rates…where all we can do is only laugh at the absurdity of them cuz we don't have Rolling Stone money to dish out yet.
Although, we did recently have a very successful launch with a PR firm a few months back, and it helped,  we decided to discontinue their services cuz we felt it wasn't a good fit. With that said, we just haven't found the right PR person for us yet. So if you are out there please contact us…we are looking.
You're originally from Connecticut. How and when did you make the journey to L.A? And can you tell us about some of your musical roots back in CT?
I am. I'm originally from Waterbury, CT. A rugged industrial city with great down to earth, tell it like it is people that help me remember where I came from. Which is very important to me. On our recent record Bring It On!, I was homesick one day, and wrote a song about my life growing up in Waterbury…simply titled "In Waterbury." Now every time I sing it, I feel like I'm at home no matter how far away I am, and I wanted to show my love for the people there…kinda put em on the map a bit.
Regarding my move to LA…that happened in 2006. I landed a great job offer, didn't know a soul here, but as soon as the plane landed I literally hit the ground running, and started to build Permanent Ability from the ground up. I already had a bunch of solid songs written so it was easy to find players who believed in the project to get it moving. I went through a couple versions of the band at first…and some shows were terrible in the beginning looking back on em now.
I've always been a performer since I was a young kid, and I understand the persistence and patience needed to keep trying. I've always seemed to use disappointment as a fuel to succeed in my life. Growing up in Waterbury, I was fortunate enough to have music education at the public schools I attended; giving me a diverse musical background ranging in singing to guitar to the violin. I've played in a few bands, even fronted a decent band back in 2005, with the opportunity to perform at the legendary New Haven, CT venue Toads Place. There is some great local talent in Connecticut, but with my experience I couldn't find any passionate, disciplined individuals to work with who were motivated enough to take it to the next level. That's when I made the leap to Los Angeles. I've always had an inner destined fascination with Los Angeles early on as a kid, and I really never knew why until I pursued a career in music. I deep down always knew this is where I belonged. It all made sense, and I remember finally landing here on that plane…its like I was holding my breath my entire life and can breathe again.
What about the other guys in the band, can you tell us a bit about their roots, whether musical or geographical?
Sure. Gary Rinaldi (drums) is from New Jersey and has a Bachelors Degree in music. G has a lot of experience touring under his belt along with studio and session playing. He is one of the tightest drummers I've ever played with. Dino a.ka. Steve Andino (bass) he is originally from Brooklyn, NY and had a long tenure with the signed metal band Tourniquet, but parted ways a little before we met, and brings tons of musical experience to the team. Finally there's Nick Gordon (guitarist) the lone Angelino in the band who has an immense love for guitar and music in general really with some seasoned chops and bitching solos.
Gary and Dino are obsessively tight when they work on their rhythm parts together, and they bring the metal influences to the band, giving us that edgy-heavier sound that you hear in Permanent Ability. In turn, that gave Nick and I more freedom to be ballsier and more pronounced, stepping up our game too, cuz we were now allowed to, due to prior members who made it more difficult to do so with their lack of experience. These guys trust and musically support me as a singer, as I trust in them as musicians. We sincerely respect and like one another, and always check our egos at the door til show time.
I know you've gone through some line up changes. Can you tell me how long your current line up has been together?
Well this current line-up has been together since October 2009. Nick and I however have been together since 2008, and have been through some growing pains with Permanent Ability, which is normal for any band, and definitely made us loyal friends to each other. The two previous members we were playing with did us a BIG favor by quitting. Nick and I weren't happy with the drummer to begin with. He never could keep time live, and in the studio…forget about it. As for our previous bassist, he had chops, but lacked the seasoned chops you now hear Dino bring to the band. That let Nick and I redefine the sound of the band that we started to develop with the previous members. Gary and I were friends for a a couple years prior before he joined, and I remember seeing him perform early in 2009 wishing he was Permanent Ability's drummer, and he secretively wanted the same thing we found out once he joined. We all mesh really well as musicians and as people, and it shows onstage…we have fun together. Change is good, and no one likes change, but in our case it was a blessing in disguise.
You've spoken about the name Permanent Ability in past interviews. You said the name derived from your philosophy on how God gives everyone ability. I totally agree and wonder where that personal philosophy came from. Also, how does knowing where your permanent ability comes from guide your musical or life decisions?
You are correct. I had this philosophy, god gave me a gift, in this case being able to create art and music, and it is permanently rooted in me for life; and even if I wanted to get rid of that talent, that talent is an ability that will always be a part of me, and its up to me to decide whether to use it, abuse it, or let it go to idle. So based on that philosophy, I felt the name Permanent Ability was suitable when I created the project, and the creative abundance given to us as individuals, when we come together as one unit, has proven that we are using such talents to inspire hearts and minds, and using them as our canvas.
You're new EP, BRING IT ON is amazing. I can't wait until you get here to Texas so I can watch you live. I hear P-Funk, Led Zeppelin, Red Hot Chili Peppers and even early King's X influences on this new EP. Am I right in any of these influences?
Wow! King's X thats a first. I can hear how you'd make that observation now since you said that. You are dead on with the other influences you've mentioned though. I remember recording "Girls" and Jim Wirt (producer) was super excited about it cuz it had such a Zeppelin feel to it…he even effected my vocals in the climax of the song similar to how they did Robert Plant deliberately. Some of our other influences include Jeff Beck, Rage Against the Machine, and even LL Cool J. We love all kinds of music, and listen to a wide variety to keep our musical ear diverse. Guess thats why we ain't afraid to fuck with formula during the creative process. Wait'll you hear the new s#!t we've been creating…our bridges turn into off time signatures. This could end up being the signature of our music.
Permanent Ability has so much talent. I definitely think you'll be signed by a major label sooner than most people think. Will you approach making a full-length studio album w/ plenty of backing any differently than doing your first two EPs?
Thank you. We all work very hard, and we are very confident in our skills set as a band. Each of us brings an equal piece to the equation, and it's a team effort. On both EPs I wrote and composed all the songs except for two songs that appear on Bring It On!. More recently we've been coming together as a band writing songs as an equal unit. Now if a label were to step in and back us with funding, I think we would approach it the same way. A good song is a good song and it doesn't matter which one of us contributes it to PA's catalogue as long as it is something we all believe in, cuz in the end we all bring ourselves to it and define it.  I would though be as adamant as Kurt Cobain was before signing with a label…I'd wanted it documented that we can keep creative control. We love what we do and we'd like to keep doing what we are doing. However, we are open to criticism in hopes to make our product better if needed.
You guys are fans of Parliament /Funkadelic. Have you ever covered any of their songs in concert?  If so, what are they? If not, which songs do you think would be fun to give the Permanent Ability style to?
That's a great question.  We honestly haven't covered any Funkadelic. We've considered it, although it's been done a lot in the past. We have a heavy funk influenced rendition of Pink Floyd's "Young Lust" which is amazing! We were thinking of getting permission to record it in the near future and release it. Probably, have Jim produce it, maybe even possibly get one of the members of Pink Floyd to play on the track too. I really want to funk up an LL Cool J song. He is one of my major influences lyrically. We've also got a punk version of "Johnny Be Good." Nick kills on that song!

On Bring it On!, you worked with famed/veteran producer Jim Wirt, how was working with Jim different from your own self-produced EP From the Womb to Hollywood?
Jim helped define our sound, and captured it on Bring It On!, finally taking all of our influences, and fusing them into one style that is now Permanent Ability. On the first EP From the Womb to Hollywood I released myself back in 2008, which is no slouch and it features Lige Curry of Parliament Funkadelic on Bass. I produced it and had to hire the musicians to play on it, it continues to receive success due to the strong songs; but it failed to capture the original sound that I was looking for, and the tightness which can only be achieved by working with other band members; having them bring their style to it, and developing it over time. With Bring It On! we worked and worked the songs before recording them and developed our own sound so when Jim Wirt stepped in it was easy for him to refine it if needed. Having him step in when he did, with this particular lineup, I feel we've finally accomplished that, and put out a highly-energetic-kick ass record. Hopefully digging up the fossil and reviving funk rock music.
What is your favorite Permanent Ability song you've recorded so far? And which is your favorite to play live?
My favorite Permanent Ability song thus far is "Last to Know" simply because of it's personal meaning to me. I really lyrically poured my heart out on that song to desperately try and close a painful chapter of my life; that from time to time unforgivingly haunts me with its past regrets. To perform live though is definitely "Sex Junkie" cuz all four of us explode to the music, and we are so animated and full of raw energy. Although…that's pretty much our entire set, but Sex Junkie…we've dubbed it the "Eck" cuz it's our set closer, or our musical Dennis Eckersley. (a famous Oakland A's baseball closer)
Not sure if you have much time to watch movies, but if you do, what is your all-time favorite music bio-flick?
Nah, we all make  time for movies. To be completely honest though…I can't stand any movie flicks with singing and dancing in em. I refuse to watch that s#!t. However, classic music bio-flicks I dig: "Spinal Tap" is classic, "Funky Monks," and "The Song Remains The Same too." Recently I watched "Notorious" which is Biggie Smalls bio flick, that was very, very, inspirational.
Finally, what's life like for a band on your non-gig or non-studio nights? Are there p/t jobs, day jobs? What's a typical day like for Brian?
Yes, luckily we all still have our day jobs in this economy. That's how we currently fund the band and tour around. Unfortunately, the music industry is so f#%d up that the security of labels is always in question. Some are struggling to hang on and some are going under. Now-a-days they are offering less money than what we'd make at our day jobs a year…so for now we have to maintain our responsibilities and make a living. In Permanent Ability we have a saying, "we gotta eat." Aside from music, l break up the monotony by traveling up the coast, spending time with family and friends, with the occasional brew in hand of course. I am a big sports fanatic, and I love watching and playing sports too. Specifically soccer…gotta indulge in my Italian heritage. Sports is probably my biggest release from music though. I'm a huge 49ers and Oakland A's fan even though I'm from CT.  I am also an artist at heart. I popped out the womb with the god given gift to draw so from time to time I like to use that as escape and create art that way.
Oh yeah, don't want to forget to ask… where can everyone purchase your music?
We are available on iTunes, Amazon, and CD Baby too. You can even find links to our records on by visiting www.permanentability.com or just search Permanent Ability online. Also, please hook us up with a review when you purchase too. We want your feedback. I also like to leave you with this to chew on…always remember that talent has more longevity in life than who you know. Be good. Thanks again for the interview.
Thanks Brian for this chance to interview you for GotInterviews.com. It's been fun and please,  don't forget me when you come to Texas. I'll need two tickets.  :  )
Download all of Your Favorite Permanent Ability Songs at iTunes
Visit Permanent Ability
Bring It On! – Free Download or listen

Comments
comments