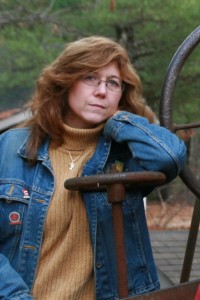 Can you remember the first encouraging comment you received about your writing?
Oh, that's easy! My parents. I can't remember any one particular comment, it's more like an overall feeling of pride they had in my writing. I ate up any fictional writing assignment and loved book reports. I wrote five page letters to my friends and composed poetry for my eyes only.
Interestingly enough, it never occurred to me that I might want to be a writer until my daughter was born and I began reading books to her.
What do you most love about the writing life?
I just had a blog entry on this!
I love the research, the revisions, school visits, the sense of accomplishment a final draft brings me, the writing friends I've met along the way, the stories about how readers have used my book to keep their Grumpies away . . .
The only thing I don't love about it, is the waaaaaiting.
I especially love the way it fits into my life. My family and I run a campground May through October, and the hours then are intense. But all those other months are mine to write in! The two mesh together better than you would think. Having 132 families as "company" every weekend give me more writing ideas than I could ever use in my lifetime. The kids who visit with me in my store/office really brighten my day.
Do you also write magazine articles or do you focus entirely on picture books?
While a student of the Institute of Children's Literature, I completed a magazine writing assignment which went on to be published in a May '97 issue of My Friend magazine. That was my first writing sale. The title was "If You Were A Baby Alligator . . . "
But my first love at the time was still picture books, and because I can only write a few months of the year, I concentrated on that genre.
What advice would you give writers who are closing in on the 100 rejection mark without an acceptance of any sort?
Having gotten close to 100 rejections before holding The Three Grumpies in my hands, I know this is going to sound cliche, but I have to say, "Keep plugging along." Attending retreats and conferences where you can connect with other writers is always an inspiration and will help keep you going. Join a critique group, not only for the learning value, but for the cheerleading moments. Join an on-line list serve to chat with other writers and commiserate together. Study books on how to write, for even my well published friends say you can never stop learning the craft.
Take heart . . . many, many well published writers hit that 100 mark before their first book sold.
How did family and friends view your writing before they could actually hold THREE GRUMPIES in their hands?
Before I sold The Three Grumpies, not too many people knew I was writing to submit. Those few who did were interested in the process, but I think they saw it more as a hobby to help me get through the long winter nights between camping seasons.
My then 10 year old daughter (a budding author herself!) was a fabulous cheerleader and a great sounding board for my manuscripts. She'd probably tell you she never doubted it for a minute.
How many total stories have you written? Even count those that you'll never show anybody.
Oh, wow . . . I have to go look it up!
Twenty three picture books. And six chapter books.
That's a lot more than I thought there'd be! More than half those picture books will never see the light of day, I'm afraid.
Do you break or have you broken any conventional rules of picture book writing?
There are rules? Really?
I'm a firm believer in writing the story that's waiting to be told. If it's strong enough, it will find a home. It might just take a little longer, that's all.
Are there certain types of picture books you prefer to write? Humorous? Educational? Sentimental?
I don't set out to write a certain type, but I tend to lean toward humorous and quirky. Lately, I've seen a pattern in my picture book ideas – they all have a family theme to them.
Were there certain picture books that influenced you as you first pursued publication? Certain books you may have read your daughter that inspired you?
I have this worn, faded, falling-apart-at-the-seams copy of Going On A Bear Hunt by Helen Oxenbury. My two year old daughter loved it so much, she memorized it to the point where my parents thought she'd learned to read. I'd always enjoyed writing, but I think it was her love of picture books that first inspired me to try my hand at that particular genre.
In the beginning stages of my writing, I took a Children's Lit course at a local college. Part of the lesson plan was to read 100 picture books and briefly comment on why they made my list. I was in heaven! I sat on the floor of our little local library, pulling them off the shelf one by one. Those I enjoyed the most came home with me to read to my daughter. Chicka-Chicka-Boom-Boom, Can't You Sleep Little Bear?, Stellaluna, anything by Eric Carle, Rainbow Fish, Fly Away Home, The Day the Relatives Came, and anything by Lynne Plourde . . . oh, the list goes on!
I've just read on your livejournal page that THREE GRUMPIES is about to be published in Korean. Wow! How did that happen?
I have no idea! The Grumpies went out of print in the US recently, so I really wasn't expecting much of a royalty statement. But I saw a new, unfamiliar listing, and contacted Bloomsbury. Sure enough, Pixelhouse Korea had bought rights. So far, The Grumpies has been published in US, UK, German and Danish. Being grumpy is obviously a very universal theme!
Can you tell us about any picture books you currently have making the rounds at publishers?
I really don't have any picture books "out there" at the moment. The couple I've written still need some tweaking, although I think they're very close.
The last two winters, I've focused on finding my middle grade voice by writing/revising four manuscripts. I have one that my agent is subbing at this moment, and two others I think are very promising. I'll spend this summer mulling over the revisions I want to make and writing small scenes here and there. Then when October arrives and I wave goodbye to the last camper as I shut the gate behind them, I'll dig into those manuscripts.
Can you share with us something about you nobody else may know?
I'd do almost anything for ice cream in any form; frozen yogurt, soft serve . . . you haven't lived until you've had frozen custard!
I have lots of favorite flavors too; strawberry, coffee, vanilla, butter crunch, chocolate chip, heath bar. In fact, I'm eating frozen mocha yogurt as I write this!!
Visit Tamra's Blog -> http://tamra-wight.livejournal.com/
Visit Tamra's Website ->http://www.thethreegrumpies.com/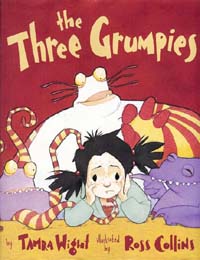 Comments
comments