Book Title: Nugget & Fang: Friends Forever–or Snack Time?
Author: Tammi Sauer
Illustrator: Michael Slack
Publisher: HMH Books for Young Readers
Year Published: 2013
Availability: Click for an available copy from Amazon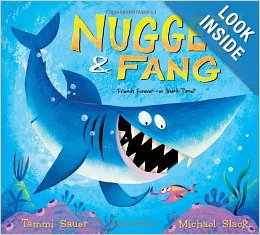 Tammi Sauer burst onto the picture book scene a few years ago with Cowboy Camp (Sterling). Since then, it's been one great book after another on the shelves of your favorite book store, in the classroom or in the library. Tammi Sauer may just be the next Margaret Wise Brown, but with a much bigger funny bone. The similarity may just end with the adjective "prolific."
As with any picture book, lessons are often taught but not in such a way that a reader or a read(ee) feels like they've been the recipient of a lecture or a sermon. Take Nugget & Fang for an example. Children will learn in a playful way that friends do indeed come in all different shapes and sizes. This is a type of lesson so many people need to learn and doing so in such with such witty wordplay makes this read fun for kids. The bold and very expressive illustrations of Michael Slack also make this picture book from Tammi Sauer a winner.
If you've read Nugget & Fang: Friends Forever–or Snack Time? to your children or grandchildren, we'd love to know your thoughts on this great Tammi Sauer title.
Read our interview with Tammi Sauer here
.
.
.
.
Comments
comments