Book Title: The Runaway Bunny
Author: Margaret Wise Brown
Illustrator: Clement Hurd
Publisher: Harper & Brothers
Year Published: 1942
Availability: Click for an available copy from Amazon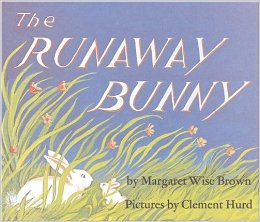 Margaret Wise Brown is one of the more prolific picture book writers ever. She passed away in 1952 but her publishing prowess has continued on to this day. Her sales continue to soar because she has written some of the most timeless books ever. Think about Goodnight Moon. What parent has not been read that classic, this classic, or many other Margaret Wise Brown titles?
Children at every step of their early years want to test boundaries but they also want to know their mother's love is always there for them. Reading your children this book may reassure them that testing boudaries is a normal part of growing up.
If you've read The Runaway Bunny to your children or grandchildren, we'd love to know your thoughts on this, one of Margaret Wise Brown's most beloved titles.
.

.
.
.
Comments
comments