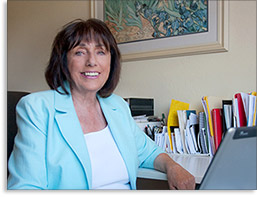 Jill Amadio is a very talented writer. Her experiences range from writing for newspapers in England and Thailand to being a regular contributor to Entrepreneur Magazine to ghostwriting books such as the Rudy Vallee life story and the story behind Luftwaffe Ace Günther Rall. She now spends most of her time writing mysteries and is a member of the Mystery Writers of America, Sisters in Crime and the Authors Guild among other groups. I hope you enjoy the Jill Amadio interview.
A lot of our readers may be familiar with your books, but not know a lot about the writer behind them. So let's start at the beginning. Where were you born and what, if anything in your childhood, helped mold you into the well respected and successful writer you are today?
I am from St. Ives, Cornwall, on the southernmost tip of the UK. My hometown is a small fishing village. My father was an RAF bomber pilot and my mother had a school of dance. We had no television so our main entertainment was books and music.​ I had a love of words and won all the top English awards at school although my math skills were, and still are, non-existent. As soon as I finished a year at college I quit and went to live in London, seeking Real Life, where I got a job on a national newspaper, not as a reporter, but as a general dogsbody in the newsroom. I picked up tons of tips on how to cover a story and how to interview people because I'd listen in to reporters' phone calls and read their copy. I also handled copy for what we call The Agony Column in England, the Ann Anders-type column but I got irritated with the columnist because she only responded in generalized ways rather than give the poor person seeking advice only the broadest of replies.
Can you remember teachers or other mentors who encouraged you to become a journalist? And was that your first choice for a career?
​I went to a Catholic boarding school where the nun/teachers taught us French and Latin, and the English teacher sent my essays in to national competitions. I was so intent on becoming a reporter I didn't feel a need for mentors. I always knew I'd be a reporter. All it took was persistence because my hometown newspaper editor told me to pound sand, so I went to London instead.​ I was 17 -we finish high school at 16 -and I went to London University for just one year before finding my dream job – on a newspaper.

I could ask a thousand questions about your journalism career. I'm amazed that you worked for papers in locales such as London, Bangkok, Madrid and freelanced for several others. How would you describe your journalism career and was there any paper you didn't work for but wish you had?
My first paper was what we describe as a yellow rag. It was like the National Enquirer, lots of juicy stories.​ My first week there the crime reporter took me to the pub where all the Scotland Yard detectives hung out. I got rip-roaring drunk, he told me later, turned green, and bolted for the door. I met an American engineer in London and we were married in Spain after he was transferred there. I wrote for the Spanish-American Courier in Madrid and covered most of the visiting velebrities who passed through. Then David Lean came to town to film "Dr. Zhivago." I went out to the set to interview him and he invited me to be in the movie. I have one line playing opposite Omar Sharif!
Then we went to live in Bogota, Colombia where I was refused a work permit for the Engsh-language paper. So I freelanced. We soon moved to Bangkok, Thailand where I worked for the Bangkok Post, owned by Brits. I was a general reporter, lifestyles editor, and gossip columnist. It was all wonderful fun and great experiences until we remembered the Vietnam War had just ended a mere hour-long flight away, the War Next Door. Again, I interviewed all sorts of VIPs including Pat Nixon, Ingrid Bergman, and others. I was divorced by then and my husband wanted me to bring our three children up in the U.S. I asked author Philip Roth for advice on where to settle, and he suggested Westport, CT. So we relocated there and I worked for the Wesport News, and another paper. Then Gannett Newspapers in New York.
You did investigative reporting for the Connecticut Sunday Herald, is that where your love for mysteries developed or has mystery been a life long love?
​Funnily enough, I was not much into mysteries at the time although I still loved reading the classic mystery authors like Ruth Rendell, P.D. James, Graham Greene, and Arthur Conan Doyle. I enjoy a cat-and-mouse game, and puzzles in crime novels but my love was with newspapers. I covered the Bridgeport, CT mafia, and the local police department, but there was usually nothing much in the way of mysteries when the cops solved the crimes. Usually, they were cut and dried.
Then I was offered a job in California with a magazine as an automotive columnist. I'd test-driven a few new cars for articles in Bangkok, and covered a Formula3 car race or two in Macao, near Hong Kong. I'd never been to the West Coast so off I went to explore, fell in love with Newport Beach, took the job, and again test-drove new car models. Mercedes took us to their factory in Germany; Volvo to Sweden; Range Rover to the UK; Saab to Paris, France and Rome, Italy (honestly!), and one car company flew us to the South of France. Then I got fired. The new magazin editor brought in her old buddies from her previous publication, so I began to freelance for the Washington Times, and others. My interest in thrillers, mysteries, and a few noir increased when I met some crime writers in Orange County, CA.

There are many different ways authors go about writing fiction. Some write a book by creating a detailed outline and then simply disregard it. Others follow their outlines perfectly and then there are fiction writers who create the end of a book first and then go back and fill in all the details. Can you share with our readers how you go about writing a mystery?
I basically write by the seat of my pants with a brief outline and vague list of assorted characters. I put a lot of thought into the amateur sleuth and the murderer. I like to get inside the killer's head, and write from their point of view as part of the story. For my first mystery, "Digging Too Deep," I created an amateur sleuth. I gave her a biography -complete with background, physical description, flaws, personality, and character. She drives the plot. Were it not for her curiosity she wouldn't find a body, nor solve the crime and thus there'd be no book.
I don't have the patience to write a detailed outline, I just want to get on with the book itself. As I write, people and settings show up, it seems. I look at the monitor and mumble to myself, Gosh, who's this guy poking his nose in? So then I have to create another biography for that chap. I do a ton of research, visiting every location I have in the book so I can accurately describe it, and I consult with a forensic pathologist for methods of performing the dastardly deeds. In addition, Google is a marvelous research tool. It would be neat to write the ending first but I don't always know where I am going until I am actually writing scenes because things can shift around. This sounds a bit scattered but it does work. I also like readers to learn something, albeit subtly, and I talk about geology, music, tailings, and how my character, Cornishwoman Tosca Trevant, manages to handle the American culture when she is banished to the colonies at the request of Queen Elizabeth II (Newport Beach, CA, she decides, isn't too shabby).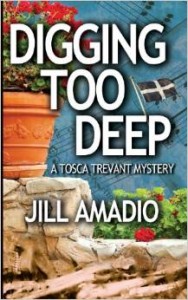 Your latest mystery is Digging Too Deep which recently won an award. Could you tell a little bit about the title, the award and how the book has been received by your fans?
The title was chosen because Tosca, like all Brits, loves gardens. She is appalled at a neighbor's weed-filled yard and takes it upon herself to tidy it up. She digs a little too deep and what she finds sets her off on a quest to solve a murder, redeem herself, get promoted from gossip columnist to crime reporter, and hopefully return to the UK in triumph. I won an Irwin Award for the book's international character. Tosca is named after the opera of the same name. Some of my mother's family were opera singers from Italy and Malta. Fans appear to enjoy Tosca's sense of humor, her attempts to understand the culture, and her Cornish cuss words, although not everyone in the book enjoys the god-awful mead she home-brews and thrusts upon unsuspecting neighbors.
Next page ->
Comments
comments