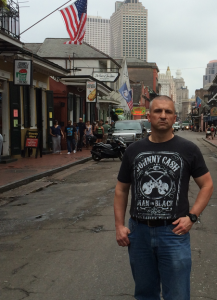 I met Rex on Facebook. It's not my preferred method of meeting people, but when it comes to getting to know real good guys, I'll take them any way I can find them. And take it from me, Rex is a really good guy. If you have any doubts about his goodness, just read all about him below in what I'm calling, "The Official K. Rex Butts Interview." I do hope you enjoy this interview with K. Rex Butts and please don't forget to leave a comment at the end and then go over to his website to read Rex's blog. You'll definitely enjoy reading what he writes.

Have you always wanted to be a minister or did you have other pursuits as a you were growing up, like fireman, sheriff, baseball player,etc?
I play the guitar and started out studying music in college, though I didn't have any idea what I wanted to become in life. Even though I had already been baptized earlier in life, I was not a follower of Jesus then and so, as a young person in my early twenties, I lived basically for one party to the next. I dropped out of college and got a job as a machinist running mills, lathes, and grinders. When I was twenty-three years old, my dad died rather quickly from pancreatic cancer. That was the first significant loss in my life and in the weeks to come, my sister invited me to her church which is where I really first heard about the grace of God and was taught something about what it meant to follow Jesus. I started helping with the church's youth ministry and was making plans to finish my college education, pursuing a degree in communications and business. Then one of the elders suggested that I should go study the Bible and consider becoming a minister. I also met Laura, now my wife, and as we started dating, she was also very encouraging in my pursuit of studying the Bible and becoming a minister. I still don't think she had any idea what she was in for.
What is your religious background? Were you raised going to church each week and was that in a Church of Christ or another religious tradition?
I was raised by Christian parents. We were members of a Church of Christ and we were the family who went to worship on both Sunday morning (including Sunday school) and Sunday evening, as well as the mid-week Bible study on Wednesday evening. We were also the family that if there was a gospel meeting at another Church of Christ in the area, we went. The church we attended was made up of good people who certainly loved the Lord and wanted to do his will. Yet the church also suffered from some conflict as well as the typical legalism and sectarian thinking that characterized most Churches of Christ in the 70's and 80's. But neither of my parents were of the mind-set that we, in the Church of Christ, were the only Christians. I'm very thankful for that. I'm also thankful for the fact that my parents were Christians, provided a good home for brothers, sisters, and I to grow up in, and were always willing to help anyone (Christian or not) in need. Truly, I was and still am blessed because of this.
You not only preach and teach, but you write and you do it well. How did you first get published and what took you down the path of writing for Christian publications like Church and Family, Wineskins and Restoration Quarterly?
Thank you for the compliment on my writing. Since the time of the writers of the New Testament, Christians have always sought to theologically communicate in writing. It's a way of reaching a larger audience and my only hope is that whatever I write will help those reading live more faithfully as followers of Jesus. As for how I got started, …Well, my wife and I suffered the death of our first son and so a couple of years after that I wrote an article about the collision of faith and doubt because it was the reality I was living with and trying to navigate my way through. Since then, I've written on issues I'm wrestling with either in a personal manner, such as suffering, or those I encounter as a minister. So I write on subjects that are of interest to me when I believe I have something to say that others need to hear. I hope that doesn't sound arrogant or like I think too highly of myself, because I really only want to help others. Eventually I want to finish a book I started writing on suffering and hope… and when that happens, I hope it will help others in their faith − especially those who are enduring with grief and pain.
When you first began preaching full-time, were there any surprises at what was expected of you in your job?
Not really. But I do think some churches have this unspoken expectation that if they just get the right minister, then their church will start growing and doing more of the ministry that every church is called to engage in. Not only does this expect too much out of the minister, it shows that the churches are failing to own their responsibility for the reasons why their church isn't growing and doing ministry and therefore it fails to address the changes that must happen in order for new growth and ministry to take place. I'm also still surprised that sometimes churches have this expectation of their preachers but at the same time will not allow their preacher to lead, to act and start facilitating some of the changes that are necessary for growth and fruitful ministry.
What have you found the most delight in during your many years of ministry?
People. Whenever I get the chance to help someone come to faith in Jesus, experience the grace and mercy of God, discover how God is working in their life, learn how to live more courageously as a follower of Jesus, and so on… there is so much joy in that, whether it happens through preaching or through some act of service. Besides the baptisms and preaching, two of the most memorable experiences was 1) helping a church member who struggled with drug addiction by accompanying this person to N.A. meetings and 2) helping the church get fully on board with supporting a college student on a mission trip because of the way that God used that mission trip to shape the faith of that college student who is now considering serving as a missionary after college.
Would you say there are any negatives in being a minister?
It all depends. Like any vocation, there are some aspects of the job that are less enjoyable than others. And since being a minister involves working with people, there will be times when a minister is disappointed and hurt. I know that there are some ministers who have really been mistreated by the churches they served. Fortunately, the churches I have served have treated me fairly. So as I say this, perhaps the one negative is that your family lives in a glass house (so to speak) with unfair expectations of the minister's spouse and children but I have tried to protect my children from that.
What are the biggest responsibilities you believe you must shoulder as a minister?
Taking responsibility for my own faith. By that I don't mean earning my salvation or making faith up as I go along. What I mean is that ministry is about helping people see Jesus and follow Jesus. To do that, I must continue to see and follow Jesus myself, so that means being intentional about practicing disciplines such as regular prayer time and time spent reading scripture so that I can hear from God. This is how ministry remains strengthened by the Spirit rather than our own human weakness. And think about Jesus for a minute… Besides all of the preaching, teaching, and ministering to people that Jesus did, he also took time out for prayer according to Mark chapter one. And Jesus also knew his Bible well because he obviously spent time reading it. Ministry is hard and even though preaching, teaching, and ministering to others are great responsibilities that every minister should work hard at, if we don't take responsibility for our own faith then it will eventually affect those other ministry responsibilities.
You've worked at a three congregations over the years, and you are now currently looking for God to guide you to a new congregation. How do you approach your first few months at a new congregation?
This is where I've probably changed the most in my philosophy of ministry. I used to think that the minister's job was to go into the church and start casting a vision for what the church should be doing and where the church should be going. After all, I'm the one with the theological and ministry education… right? Actually there's a lot of hubris in that sort of thinking that I deeply regret. And that sort of thinking never really worked out. Where I am at now is that the first thing a minister must do is engage in listening, listening to the church and the wider community (especially since the minister is probably new to the community. By listening, learning, and loving (through serving), as my friend and fellow minister Fred Liggin puts it, the minister is then able to more effectively lead. The minister still needs to hold a vision before the church of what it looks like to follow Jesus and participate in the mission of God but instead of knowing what changes need to happen, the minister becomes a listener. In doing so, the minister not only begins to understand the dynamics of the church and local community, the minister is able to understand how God has gifted the church for ministry and then, with the church and her other leaders, is able to help the church discern what God is calling them to, what sort of changes are in need, and how to step forward into this calling by faith.
You recent work in Columbia, Maryland ended with the closing of the doors of the congregation. Whose idea was it to close the doors and how did that decision come about?
It was a discernment decision of the entire congregation. Once the challenges facing the congregation were clear, we entered into a discernment process to discover where God was leading us. We knew that something had to change, that the church could not continue on as it was. So we entertained several possibilities including doing a relaunch/replant of the church, merging with another church, and closure. We spent a year in prayer, listening to each other in order to understand where God was leading, seeking what was best for the spiritual welfare of each other rather than just trying to preserve the church as an organization. Eventually it became clear that the best decision to make was closure. There's certain many more details to the story but that is the gist. As for my own role as the preacher/minister, I'll take responsibility for helping lead the church through this process and holding a very difficult conversation and decision before them but the final decision was made by the entire congregation.
Do you see any positives in the shutting of the doors in Columbia?
Yes! One of the reasons we decided that God was not calling us to do a relaunch/replant was because most of the remaining members were just spiritually tired from trying to support this church. Yet those same Christians have a very big capacity for the grace of God and have been gifted by God for ministry in his kingdom. So by closing, these members are freed from the difficult burden that this church became and instead can find healthy churches to serve with using their Spiritual gifts within those churches. For example, one couple has joined a church in the neighborhood they live in, a church that several of their neighbors belong too as well. Together with their neighbors who are a part of this church, they can become extensions of the church right on the very block they live on to the other neighbors living there. Ultimately, the body of Christ has not lost any of it's members, the members just were shuffled around a bit. That happened in the first century too when the Christians in Jerusalem were scattered and look what happened!
How hard has it been on you personally and spiritually to see the congregation come to the decision to shut the doors?
At first, it didn't seem so hard. But the more that this reality has set in, I have dealt with the feeling of failure. Keep in mind that when I was in seminary, I dreamed of serving with a growing church and helping that church to do even more great things for the kingdom. There's some hubris in that thinking but it's also natural too, I think. I know that I never dreamed I would help close a church. Now I'm looking for another church I can serve with as a minister, as I still want to use the gifts God has given me to serve him and help churches participate in the mission of God. But in the meantime, I wrestle with the feeling of failure and the feeling of being stuck in limbo (which my family feels too). Of course, I'm my own worst critic, so I keep praying for the grace and mercy of God because I need it every day.
You are currently pursuing a Doctor of Ministry degree but you already have degrees from Harding and Harding School of Theology? Why do you yearn for more education and learning?
Well, with the Doctor of Ministry, which is focused on the practice of ministry which is different from Ph.D that focuses on the research and theory of a particular field, I am focused on a particular issue that I deal with in ministry. My program, which is at Northern Seminary in Lombard, Illinois, is on Missional Leadership and my thesis topic will likely revolve around the issue of scripture and hermeneutics (how we read the Bible), asking what sort of hermeneutic enables a local church to faithfully engage as participants in the mission of God. While the issue is a theological issue, I will have to show how this will work in the local church and what sort of changes in practice are necessary. So besides having an undergraduate degree in Bible and ministry from Harding University and the seminary level theological education from Harding School of Theology (both of which are invaluable), I am now pursuing a degree dealing with a particular issue of interest to me and one that I believe will be very critical to ministry in coming years as churches continue to navigate through the waters of a growing secular and pluralistic culture.
(can't wait to read that thesis Rex)
Speaking of education, who were some of the most influential professors you studied under at Harding and Harding School of Theology?
Well, all of them in their own unique way but I'll mention two… Dr. John Mark Hicks was an Adjunct Professor of Theology from Lipscomb University (he used to teach full-time at HST). Besides helping me understand the biblical narrative in a theological sense, he also helped restore my faith as I came to seminary struggling from so much doubt that came about after the death of my son and then the death of my younger brother a year later. I had a lot of "theological" questions and Hick's classes provided a safe place to work through those difficult questions. Then there is Dr. David Bland, Professor of Homiletics. Prior to HST, I only knew how to put together a deductive sermon… the old "three points and a poem" sermon and I didn't do that very well. I wanted to preach but I sensed that something was very amiss and found increasing frustration and difficulty in developing sermons. So I was starting to question whether preaching was really a gift of mine and whether I should pursue preaching in ministry or some other sort of ministry. But then I took a couple of homiletic courses with Dr. Bland and he opened up new sermon development possibilities, particularly a narrative style of preaching, and suddenly I figured out how to develop sermons with confidence rather than frustration. Of course, I've also learned that sermon development is much more of a spiritual exercise than it is a use of skills but in the last ten years, I have found my preaching voice.
Jumping from education to your faith journey, how exactly did you become a Chicago Cubs fan? After all, everyone knows that Cubs fans have the most faith in the world, why else would they be a Cubs fan, right?
Well, even though I was born in northeastern Arkansas which is Cardinals territory, my parents decided to move to northwestern Indiana when I was three. Then in 1984 the Cubs, led by Ryne Sandberg and Rick Sutcliffe, went to the playoffs that year and every since then I have become one of the faithful.
Your faith in the Cubs may be about to pay off. Sporting News Magazine says they are going to go to the World Series this year. What are your thoughts on that?
Of course! You've just gotta have faith!
Some quick favorites (elaborate if you like)
Second favorite baseball and football teams (everyone knows you love the Cubs and Bears) Whoever is beating the St. Louis Cardinals and Green Bay Packers.
Coffee or tea? Coffee… Black and lots of it.
Rain, snow, mist, thunderstorm or fog? Neither. Give me sunshine, blue skies, and temps in the eighties.
Cats or dogs? Dogs…big dogs.
Law & Order, Law & Order SVU, or Law & Order Criminal Intent? It used to be Law & Order, then Criminal Intent, and now it's Blue Bloods.
Fiction author? Hmmm… I don't read fiction. Give me some Jürgen Moltmann, Henri Nouwen, and N.T. Wright.
Pie? Poor Man's Pecan Pie. It's made with oats rather than pecans. I'm told that it's an Old English recipe that the poor would make because they couldn't afford pecans. But it is a family Thanksgiving tradition on my mother's side of the family and it's very good… and fattening too.
Movie? The Great Outdoors, Die Hard, and Goodfellas.
Church conference or lectureship? Missio Alliance Conference and Pepperdine Bible Lectures.
Thanks so much Rex for your insightful answers. Can't wait until we can share an afternoon at Wrigley Field one day. Hopefully, that won't have to wait until we get to heaven which in my opinion is where everyday will be a partly cloudy day with the Cubs beating the White Sox in an afternoon World Series game. 🙂
Comments
comments