Book Title: Champion: A Legend Novel
Author: Marie Lu
Publisher: Putnam Juvenile
Date Published: November 5, 2013
Availability: Click for an available copy from Amazon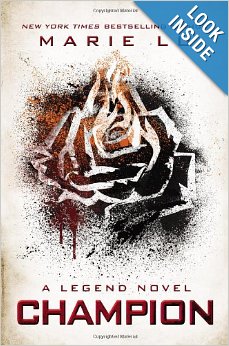 Champion is the third in the Legend Series. Marie Lu began the series with Legend and moved on with Prodigy and the fitting end comes here with Champion. June and Day are back for your reading delight and you won't be disappointed in the outcome. Of course your opinions may vary, but I doubt they will.
Marie Lu may have shocked fans with an interview she did in which she stated she might get a lot of hate mail after the way this dystopian series ends. Many readers have already stated they hated the way other recent dystopian series have ended, but I really doubt many readers of Champion will be sending Marie Lu "hate" letters, I hope you agree.
If you've read Champion: A Legend Novel, we'd love to read your thoughts or review.
.
.
.
.
Comments
comments