I have to say Francisco Lorite is one of the nicest guys from Hollywood I've had a chance to interview. He's already had quite a bit of success in the business and 2014 is poised to be his breakthrough year in Hollywood. After you read the Francisco Lorite interview, you'll see what I mean. I look forward to a lot of success from Francisco and his new production company Top Rebel Productions. I think you'll really enjoy what he puts on the small and big screen over this coming year…and beyond.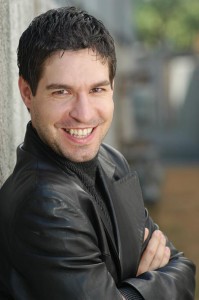 .
As a young boy, what first attracted you to the idea of making movies?
I made my first film when I was 13; it was a thirty-minute buddy-cop action-comedy, complete with elaborate car stunts and endless gun fights…(clearly, nothing scared me back then.) We shot it with an old Super8 camera that had been sitting on a dusty shelf for God knows how many years. We learned how to use it, how to edit on a flat bed, too. It was a lot of work but we loved every second of it because, for us, making a film was a natural extension of our love of cinema. I can't say that much has changed since those days –except that now, I'd think twice about those car stunts, gunfights and using a Super8. Actually, that's not true – I'd still do it if that meant I was making a film.
.
It seems like directing was always your first love, is that true, or do you enjoy acting just as much?
I was very fortunate to make a living as an actor when I lived in New York but even back then I could feel my true place was elsewhere. I remember being on this film set, seconds away from doing a scene as an actor, and catching myself looking at where the camera was being positioned, checking the light, wondering how it would all cut in post. Probably not the best mindset for an actor. Not a bad one for a director, though. There is one thing I do miss from my acting days – the theater. Hopefully, I'll get to perform live again one day.
.
You love Sergio Leone, how did that love for his films come about?
There is a wide range of filmmakers who inspire me; people who ask are always surprised when I mention Chaplin, Kubrick, Fellini, Hitchcock, PT Anderson, Malick, Fincher, Almodóvar, Orson Welles, Bruce Lee and Melville in the same breath. However, the 'Italian trifecta' –Coppola, Scorsese, Leone– was probably the earliest to impact me. As a kid, I loved the type of characters that peopled Sergio Leone's films. I enjoyed the grandiose camera moves, the sweeping music, the dark and ironic tone. Most of all, I responded to the fact that he created very unique yet personal worlds that somehow seemed realistic to me.
.
What Sergio Leone westerns are your favorites?
"The Good, The Bad & The Ugly" and "Once Upon A Time In The West", of course. Both incredible. But I also have a weakness for the lesser-known/much criticized "Once Upon A Time The Revolution" a.k.a "Duck, You Sucker!" (I hate that title – seriously, who came up with that?!)
.
What would you have spent most of your time talking about if you had met Sergio Leone?
I would have shut up and listened. And hopefully, I would have been lucky enough to hear about being a writer in post-war Italy, meeting Ennio Morricone for the first time, casting Clint Eastwood, working with Henry Fonda, directing Charles Bronson, James Coburn and De Niro. In the best of worlds, he would have told me all about it while we ate some spaghetti and drank too much wine.
.
You achieved a lot of success with your film Cuco Gomez-Gomez is Dead, was that the first film you directed?
If we don't count the aforementioned buddy-cop action-comedy 'masterpiece' we did at age 13, then yes – CUCO was the first short film I directed. I had mostly written scripts before that.
.
You did something quite remarkable on that film. You convinced the actors to pitch in to get the film made. What convinced the actors to go along with that? Did they see in you a future "star" director in the making?
I had just moved into this crazy building in Hollywood – a wonderful place back then, sort of a landing spot for New York transplants. We all knew each other from acting gigs back East and they got it into their heads that we should make a film together and that I should write it/directed it. I kept saying, 'no way in hell.' But eventually, I caved. I had conditions, though: I put my last $100 on the table and asked that everyone pitch in the same amount; I also wanted the cast to be my crew (when they were not on camera.) When they were done yelling and cursing at me, we actually got around to shooting the film. Over two weekends, with a $1200 budget, a consumer camera and a laptop.
.
What awards did the film win?
We were very fortunate with CUCO. It received several best-short and editing awards; it also got sold for broadcast and screened internationally.
.
How did that award winning short film open doors for you? What was offered to you as a direct result of the success of Cuco Gomez is Dead?
CUCO got me noticed. I began to get hired as a director and screenplay writer.
.
You just formed your own production company called Top Rebel Productions, can you tell our readers how this came about?
A few years ago, I got the opportunity to direct a feature film based on one of my own scripts. We had an incredible cast and Freddy Rodriguez was among those actors. The financing for that film fell apart; it was heartbreaking for me but Freddy and I became friends. Very quickly we discovered that we have a similar work ethic and taste in films. We decided to join forces with producer Bill Winett to make the type of films we enjoy and also develop TV projects together.
.
Your first project at Top Rebel Productions is a film-noir(ish) short titled Mediation. It recently premiered at the Newfilmmaker LA Fest. What type of reception did it receive?
The response in general, as well as on that night at New Filmmakers, has been extraordinary. "MEDIATION" was designed to be a calling card for Top Rebel Productions – a way of saying, 'Hey, we're here. Stay tuned. Much more to come from us.' I am extremely grateful that people seem to enjoy the film.
.
2014 is going to be a busy year for you. I read that a feature film called Cargo is in the works. What is that about and can you let us in on a few names connected to the project?
"CARGO" is a feature film project I am very excited about. It is a character-driven action thriller with some (very) light scifi touches. I could tell you more but my producing partners would probably kill me.
.
Is there anything else going on this year our readers should be aware of?
We have a few more things up our sleeve for 2014. Some are in the TV space, others for the internet. We want to build an audience for TRP.
.
A lot of people who read our interviews are looking to break into the "business." If someone would like to be a director, would you suggest they go to school and learn the art or tackle filmmaking the way you did by just by doing it?
Everyone has his or her own path and I would never presume to know what is best for anyone else (or sometimes, even myself…) I will say this, though: If you have a story inside of you and you have the option to tell it or not tell it – choose the former. Always. No matter what. Stories make us all better. Fight for each story inside of you until it can be shared with others.
.
Looking at your career so far, would you judge it to be successful or still a struggle? I've come to find out a lot of people look at their accomplishments different that I would. Myself, I'd call you a success. What about you?
Someone way smarter than I am said, 'Don't compare yourself to others in order to measure your success, compare yourself to the person you used to be." In the light of that wisdom, I'd say I'm a work in progress. And I look forward to future developments.
.
If you do look at your career as successful, what attributes do you possess that made it that way? Persistence? Passion? Something else?
Whatever I may have managed to accomplish is due to sheer luck (64%), my burning passion for storytelling (28%), my epic bullheadedness (37.5% – is that even a word?) Yes, I realize that's 129.5% total – but trust me, I need all the help I can get…
.
If you stay on your current career path, where do you see yourself and Top Rebel Productions in ten years?
In an old interview, Steven Spielberg said that the reason anyone becomes a filmmaker is to try and recapture the magic they experienced as a kid going to the movies. I think he's right about that. If TRP and I can make a few films or create a TV series that even approximates the ones I loved growing up, I'd be very satisfied.
.
Thanks Francisco for your time. Our readers are blessed to have you answer so many questions. If you have any social sites you'd like our readers to visit, I'll be more than happy to point them wherever you want.
.
Twitter accounts
Francisco Lorite: @LoriteFrancisco
Top Rebel Productions: @TopRebelProd
.
Facebook pages
Top Rebel Productions is on Facebook. So is Mediation The Movie.
Francisco Lorite is not on Facebook (and never will be.)
Thank you so much for your time and interest, Brian!
FL


Comments
comments