I came across a great blog the other night. For anyone who does not like debt and loves Dave Ramsey, The Enemy of Debt Blog is one you'll have to check out. A big thanks to Brad for allowing me to post this over here on GotInterviews.com.
Interview with Perkstreet Financial CEO Dan O'Malley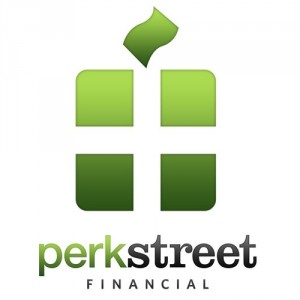 I read that you used to work for Capital One. What inspired you to leave Capital One and launch PerkStreet Financial?

I left Capital One because I saw an opportunity to remake the relationship between Americans and their bank. While I think Capital One is perhaps the best of the big banks, it is still tied to the old way — the way that says banks don't need to worry about the financial health of their customers. When it became clear that the idea for what became PerkStreet was never going to fly at Capital One, I made the decision to quit to found a new company that could start from scratch. That decision has been incredibly satisfying and fulfilling as we've watched the PerkStreet family grow larger than the customer bases of most of the banks and credit unions in the country in a short period of time.
I (original interviewer Brad Chaffee) am a customer and I love the "perks" offered for debit card purchases, but I believe PerkStreet has much more to offer compared to other banks. In your own words, what makes PerkStreet Financial different from traditional banks?
When you think of a bank, you probably think of an institution that holds people's money for them. This is the whole purpose of being for many of our competitors. But it's not what makes PerkStreet tick. We're striving to build a better solution for people.
So many Americans are struggling to conquer their debts and gain control of their finances. You don't need to look any further than this very blog to see that. PerkStreet is working to help those people live better financial lives.
We want our customers to be less stressed and better rewarded. We want them to understand how every purchase they make impacts their overall financial situation and future outlook so they can make wiser decisions about their money. In short, we really want to empower people to own their futures. Holding their money is just a small part of that vision.
I have been most pleased with the level of customer service I have received since day one. It almost feels like a family, and I'm sure most would agree that's not generally the feeling people get when banking. PerkStreet clearly cares about people, so what are you doing (as a company) to strengthen that relationship between "bank and customer" so that PerkStreet continues to stand out amongst the competition?
Helping people live better is something we think about every single day. You can find evidence of this on our blog — where you help us out as a Customer Columnist — as well as on Facebook and Twitter. We share tips and tricks for saving money and budgeting like it's our job, because we believe it really is.
By making online communication with our customers a core priority for our business, PerkStreet is working to be better in touch with our customer base as a whole. We truly love getting to know our customers online. I even give my email address to all our customers and tell them to email me anytime. (By the way, it's domalley@perkstreet.com if you're curious about us.) Likewise, everyone in our entire corporate office takes time each week to answer customer questions over email, including the whole executive staff. The Internet has revolutionized our ability to give a better value to our customers, but of equal importance is what it's done for our ability to communicate with them effectively. PerkStreet is truly the community bank for the online community.
As someone who passionately cares about people learning to live debt free, I love that PerkStreet doesn't rely on credit card products that can encourage irresponsible spending habits and ultimately lead most families into debt. How important do you think it is for families, especially considering our current economic climate, to live a debt-free life?

PerkStreet was built to help people fight debt and gain control of their finances, but that doesn't mean we want to force people to live entirely without debt. It's common knowledge that we don't offer any debt products, and I can't envision a PerkStreet Financial that would ever recommend credit cards to people. But what we really want to do is empower people to make better choices — to create their own financial road maps and be more successful at managing their own money.
If our customers choose to carry debt, that's fine. If they're debt-free, that's great. I heard you have a license plate that says "IH8 DEBT," which is totally awesome. But if our customers join PerkStreet and find that shortly thereafter they've taken control of their own financial destinies — no matter what that means for them as individuals — then we've really done our job as an organization.
PerkStreet has made great strides since introducing a truly unique and one-of-a-kind online banking experience. Do you have any exciting new developments (past, present, or future), that you would like to share with the Enemy of Debt readers?
We are really excited about some of the things that are coming down the pipe at PerkStreet. Our staff is working really hard to put together our second product, an online savings account, so our customers can begin to bank exclusively with PerkStreet. And we're developing mobile applications for smartphones, which will enable our customers to take photos of their checks in order to deposit them.
Beyond that, we have some other really exciting technological and product plans I can't talk about yet, but we know they're the kinds of things that will help Enemy of Debt's readers along with millions of other Americans. This is a really exciting time for PerkStreet.
On a lighter note, when you aren't leading the charge to change banking as we know it, what hobbies or activities do you enjoy doing in your free time?

My wife and I just had our daughter Nora four months ago, so most of my time away from the office right now is spent enjoying and taking care of her. She's just wonderful. I love to cook, though I'm not lucky enough to spend much time doing so except on the weekends. When I have the time, I love making pizza — it's tactile and uses a totally different set of senses and skills than my professional side.
Comments
comments